NZ Young family battles Arrowtown 'nimbyism'
Property Here - Tuesday, July 02, 2013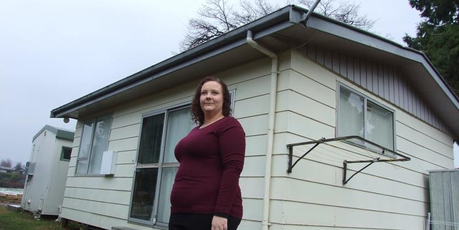 Alycia Burke stands in front of the cabin in which she and her young family live. It will be removed to make room for a 10-house development. Photo / Christina McDonald
A mother who lives with her young family in a damp, cold cabin on the land where a housing development will be built in Arrowtown is asking those opposed to the development to consider how Queenstown's high living costs affect young families.
Given she has two young children, a mouldy house is not ideal, but high living costs mean Alycia Burke and her family of four, originally from Invercargill, have been putting up with the damp house.
Mrs Burke, husband Matt and children aged 4 and 6, live in a two-bedroom cabin which will be demolished to make way for a 10-house development instigated by the Queenstown Lakes Community Housing Trust.
On Tuesday the Queenstown Lakes District Council voted to transfer 11-21 Suffolk St in Arrowtown, the land on which derelict cabins sit, to the housing trust, and on Wednesday the Government announced a $1 million grant towards the $3.6 million housing development.
Of 263 submissions to the council, the vast majority were against the proposal for reasons such as "we don't want ... trash renting cheap houses in Arrowtown" and the land being too valuable for a housing development.
Mrs Burke asks why families with young children should have to suffer in damp, cold homes because they cannot afford to spend $400 on rent.
The family moved to the area about a year ago from Invercargill, where they owned a house, because there were better work opportunities for Mr Burke, who is doing a panelbeater's apprenticeship, and to offer their children better opportunities.
With Mr Burke, 28, on an apprentice wage, Mrs Burke, 25, works part-time and their income goes towards supporting the children and paying bills.
"I've never set foot in a club in Queenstown ... we're just focused on our family and getting somewhere.
"I know people don't want Arrowtown to change, but it's 2013, places do change, they do go forward and I think this is a step in the right direction."
Tenants would live in the reduced-rent homes for up to five years, with the intention of saving money towards buying a home in the district with help from the housing trust.
Mrs Burke said the scheme would provide homes for people already in the area rather than bring an influx of people into Arrowtown, which is a concern from those in opposition.
"If we could get one of those homes we would be in there in a heartbeat, but we have seen how long the list is."
She said they had known the cost of living in the Queenstown area but considered it "short-term pain for long-term gain".
During question time in Parliament on Wednesday, Housing Minister Dr Nick Smith said he was "appalled to read that some residents were using council processes to oppose this housing, saying they did not want low-income people living in that town".
"We need to stare down this sort of nimbyism," he said.
With the cabins scheduled for removal, Mrs Burke is relieved the family has found another Arrowtown house, within their price range but also two bedrooms, which they hope will be warmer.
"If it was just Matt and myself we wouldn't worry about it, but we've got little people too."