NZ Wheeler ready to 'scale up' currency push
Property Here - Thursday, May 30, 2013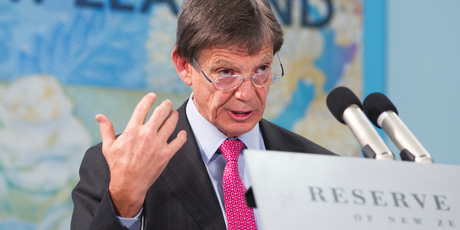 Reserve Bank Governor Graeme Wheeler. Photo / Mark Mitchell
The Reserve Bank Governor Graeme Wheeler said the central bank had intervened in the currency market to take on the high New Zealand dollar in recent months and was prepared to "scale up" its activities if necessary.
Wheeler said in speech notes for delivery to the Auckland Institute of Directors today that the bank had undertaken foreign exchange transactions to try and dampen some of the spikes in the exchange rate.
"But we are also realistic. We can only hope to smooth the peaks off the exchange rate and diminish investor perceptions that the New Zealand dollar is a one-way bet, rather than attempt to influence the trend level of the Kiwi," Wheeler said. "We are prepared to scale up our foreign exchange activities if we see opportunities to have greater influence."
Elsewhere in his speech, Wheeler said the bank would need to draw on all its policy instruments to achieve its price and financial stability objectives in an environment of domestic and external pressures.
"Not only does the economy need to absorb the impact of a significant drought and the resource allocation associated with rebuilding our second largest city, we also have to adjust to heavy capital inflows that cause our exchange rate to appreciate and reduce the profitability and competitiveness of our tradables sector," he said.
"And we need to do so at a time when house price inflation is increasing risk in the New Zealand financial system."
He said exchange rate and the housing market present difficult challenges for monetary policy when both the currency and asset prices appeared to be overvalued and investor demand was expected to remain strong.
He repeated the bank's view that the New Zealand exchange rate was "significantly overvalued" but noted that the currency had retreated a little in recent weeks because of a stronger US dollar.
"However, investors seem undeterred by the fact that our exchange rate is over-valued, the current account deficit is sizeable and private sector external indebtedness is high," Wheeler said.
"Investors also appear to downplay the liquidity risks inherent in a small market like New Zealand. This is reflected in our past exchange rate cycles that have exhibited substantial overshooting followed by sharp and rapid exchange rate depreciation," he said.
The Reserve Bank has been responding to the rising exchange rate through two avenues - maintaining the Official Cash Rate (OCR) at a historically low level and through a degree of currency intervention.
Wheeler said the downward pressure on inflation exerted by the high exchange rate meant that the OCR could be set at a lower level than would otherwise be the case.