NZ Wairau Valley a wise choice
Property Here - Wednesday, November 13, 2013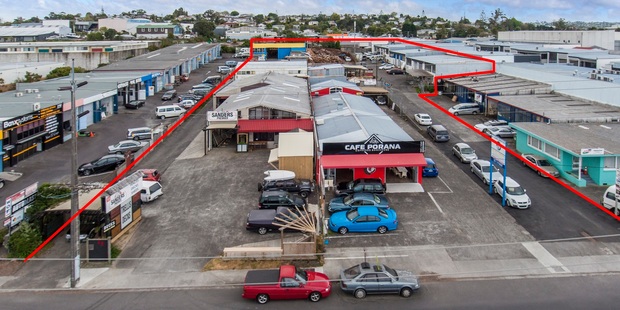 The four properties in Wairau Valley are marked by the red border.
Central location, easy access and plenty of options make a tempting proposition
Four fully-tenanted industrial properties in the North Shore's popular Wairau Valley are on the market, offering several options for investors or owner-occupiers.
The properties on Porana Rd are being marketed by Euan Stratton and Jimmy O'Brien of Colliers International, jointly with Elliott Molesworth of North Shore Commercial. They will go under the hammer separately at 11am on November 27 at Colliers at 151 Queen St, Auckland.
Stratton says the freehold, Business 9 zone properties offer multiple income streams from short and long-term leases, offering split-risk property holdings in a highly sought-after location,
"Bite-sized, multi-tenanted industrial properties aren't offered to the market in this location very often, so this is a great opportunity for investors to enter a tightly-held market where there is plenty of demand from occupiers," he says. "We expect to receive interest in the auction room from individual investors looking to buy one or more of these affordable properties to add to their portfolios."
O'Brien says some of the properties have short-term lease agreements in place and so they could also suit owner-occupiers keen to find a presence in the Wairau Valley industrial area.
"The immediate area is a well-established light industrial area catering to automotive and service industrial businesses which benefit from the excellent central North Shore location and motorway access."
The four properties are:
* 49 Porana Rd. A 1583sq m site accessed by a right-of-way. It has a 780sq m industrial building, constructed in the 1980s, housing six various-sized individual tenancies. Molesworth says it has an impressive tenancy record over the past 10 years. "With a touch of TLC an astute investor could really add value here." Each tenancy is self-contained, offering workshop space, roller door access, mezzanine areas, offices and amenities, facing a shared open yard for access and parking. Total annual rental income from six tenants is $97,587.
* 51-57 Porana Rd. This 3166sq m property, with two separate entrances off Porana Rd, has two business occupiers and a 2degrees cell tower returning $102,250 in annual rental income. Stratton says there are only 600sq m of buildings on site so there is plenty of space for further development. Although the property is on one title, the land has been divided into two parcels.
* 53 Porana Rd. A 400sq m building on an 812sq m site with an annual rental income of $51,600. O'Brien says it occupies a road-front position, with three tenancies leased to a cafe, panelbeater and garage. "The cafe has recently been refurbished, resulting in a modern and attractive lunch stop for workers in the area. The property would be well suited to owner-occupiers looking to secure space for their own business while benefiting from some additional income from the other tenancies."
* 55 Porana Rd. A 470sq m building with road-front exposure and housing a single tenancy, with ample parking on the 812sq m site. The 1970s building has roller door access, ground floor office and showroom, mezzanine office and workshop areas. Molesworth says the building is functional in nature and could potentially be split into two separate units.
Stratton says development in the Wairau Valley area has seen some well-known retail and commercial occupiers move in in recent years, including Pak'nSave and Bunnings.
"The demand trends currently in the Wairau Valley have meant there are very few investment properties offered for sale here," Stratton says.
"Properties here therefore tend to be easily let with many occupiers queuing up to gain a presence in the locality." Stratton says that associated industrial development occurring right throughout the Wairau Valley - combined with its closeness to the extensive residential catchments of Glenfield and Forest Hill - means its future as a very popular retail and commercial precinct looks assured.
The area's central location on Auckland's North Shore, a drive of 10 to 15 minute to the central business district, and proximity to the motorway further enhance the appeal of the area.
Industrial property vacancy data from Colliers International Research shows vacancy in the Wairau Valley continues to be very low. Wairau Valley industrial vacancy fell to just 1.8 per cent in August this year, down from 2.4 per cent in August last year. This is lower than the overall industrial vacancy rate in the greater Auckland area, which was 3.4 per cent in August this year and 5 per cent in August last year.