NZ Villa plan vexes neighbours
Property Here - Sunday, October 27, 2013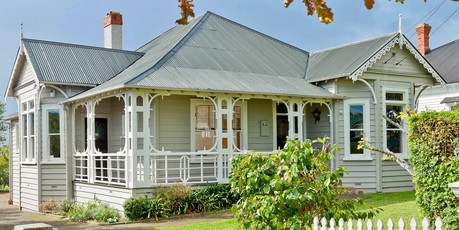 The Herbert Rd villa.
Sir Edmund Hillary's historic family home has been sold for $2.6million - only to be removed and replaced with townhouses.
It is the latest example of Auckland urban intensification to outrage residents, who have posted protest banners outside the house as it awaits the arrival of the removal contractors.
The four-bedroom Mt Eden villa was built for Sir Edmund Hillary's maternal grandmother in 1908, but the new owners plan to remove it from Herbert Rd to make way for three townhouses.
Neighbour Fiona McDonald said she was dismayed the house had been bought by a developer, only to be removed. "I confirmed with the council on Monday that they have approved for it to be removed from the site." She said she didn't want to do anything to jeopardise the sale so waited until it was finalised on Friday before hanging a protest banner, reading, "Respect Mt Eden heritage, don't remove villas".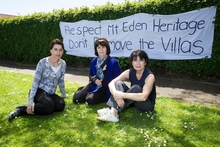 Fiona McDonald, Sally Vince and Margaret Thorne. Photo / Kellie Blizard
"The council made it clear to me there was nothing I could do to prevent it being removed. It's an absolutely stunning villa, inside and out. It is disgraceful that the council lets it happen, and so easily."
The property was sold by artist John Horner and his wife Jeanette Hayward for $2,615,000, nearly $1 million above its 2011 government valuation of $1,650,000.
Horner said he found out about the property's future a few weeks ago. "Originally we didn't think anyone would move the villa," he said. "Herbert Rd is not a heritage street such as Burnley Tce and it's listed as 6A which (means) you can do what you want with it."
The historic villa was being relocated to Warkworth to become another family's home, Horner said.
"It's a nice big section. It's the best scenario if they're going to move it, is that we know where it is and that it's going to a good place."
The property was bought by "Chinese buyers", Horner added. "I don't think it's the buyer (that's to blame). His intentions are good and we have a good relationship with him. I think the architect had the designer building three properties there."
He and his wife had lived in the Herbert Rd property for 22 years and raised two daughters there, he said. They sold the property to free up cash as he was retiring after 30 years teaching at Whitecliffe College of Arts & Design.