NZ Tower's residents face $4m bill on top of annual $3.25m
Property Here - Tuesday, May 28, 2013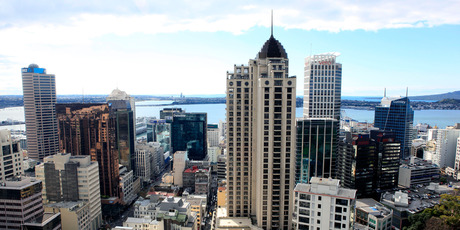 Owners of the 412 apartments are paying a rounded total of about $7800 annually each. Photo / Chris Gorman
Residents in Auckland five-star tower Metropolis are paying $3.25 million in annual body corporate fees but a further $4 million is needed from them for a big repair job.
Tony Howard, the body corporate committee chairman elected this month, said annual body corporate fees of $3.25 million were charged and it is this amount which caused an outcry as residents this month debated how much it should cost to run the 40-level building, with many claiming this was exorbitant.
Owners of the 412 apartments are paying a rounded total of about $7800 annually each. But Howard revealed residents were being levied an additional amount to fix the defective building, which opened at the start of the last decade and has suffered issues, although body corporate minutes emphasise it should not be called a leaky building.
"There is also a current remedial levy payable of $4 million to repair defects in the construction. This is payable proportionally by each owner and is due to be paid by October 31," he said explaining how the builder, Brookfield Multiplex, had made only a small contribution.
"The previous committee's action against the contractor Multiplex was statute barred as the claim had been lodged after the six-year time limit. The body corporate did receive $250,000 as a acknowledgment from Multiplex," he said.
But a lack of access to such financial information was just one of the issues which resulted in big changes at the tower this month, he said, including the end of body corporate secretary Crockers' contract.
"Bear in mind, we are still working in the dark on some of these matters. We only know what has been told to us by the old committee through the AGMs and information on Crockers Direct website available to owners. Crockers' fees all up are in the vicinity of $90,000 annually.
"The building manager's fee is the one that is $725,000 annually and is very much under the spotlight. This was the foundation for the Concerned Owners Group being brought together," Howard said.
Supporters of the former body corporate committee, chaired by Roger Apperley, opposed the new group, saying the former committee was competent and they feared resident John Chen getting a seat and bidding for the management contract. He is now on the committee.
Howard said the first full body corporate committee was due yesterday and a meeting with the building manager was scheduled for today.
Tomorrow, all applicants for the body corporate secretary job will be interviewed. Crockers cannot apply. A meeting is also scheduled with the facilities manager to discuss remedial work. Then, Howard said, the committee would decide on a new secretary and hoped to receive all files from Crockers.