NZ Support for curb on home loans
Property Here - Thursday, May 09, 2013
Banks must hold more capital to cover loans of more than 80pc of property's value in move to tame market.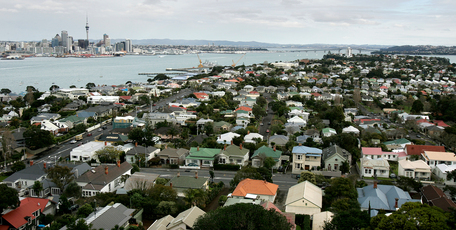 Photo / Chris Skelton
Auckland's top real estate agency has welcomed the Reserve Bank's moves to dampen the hot housing market but doesn't expect prices to suddenly drop.
The central bank yesterday confirmed that the big four banks will, from September, have to hold more capital to cover loans in which they lend more than 80 per cent of the value of the property.
Peter Thompson, managing director of Barfoot & Thompson, said moves on risky mortgage lending could be a protection measure for buyers tempted to over-borrow.
"Will it bring prices back? Possibly, slightly, but not down. It will make people decide whether they're going to buy more carefully. I've been saying for several years that 90 to 95 per cent mortgages are going to set us up for a fall. I think 80 per cent should be the figure. It's more realistic, possibly 85 per cent," said Mr Thompson
Reserve Bank Governor Graeme Wheeler said high housing demand was being underpinned by easier credit conditions, both in terms of lower mortgage rates and an increased willingness by banks to lend at high loan-to-value ratios.
"Our concerns are shared by the OECD and by the IMF in its recent review of the New Zealand economy. Housing risks have also been noted recently by all three of the major international credit rating agencies," Mr Wheeler said.
Deputy governor Grant Spencer said the Reserve Bank wanted to ensure that bank capital requirements reflect the risks around housing lending.
David Whitburn, president of the Auckland Property Investors Association, predicts price drops.
"If highly geared [over 80 per cent] loans are restricted, then there is no question that this will restrict house price growth. This move will not stop property cycles but will, in all likelihood, slow down Auckland house price growth, and raise rents in the lower-mid house price levels, as fewer people will be able to finance their own homes," Mr Whitburn said.
ANZ economists Cameron Bagrie and Mark Smith said the changes were "a strong signal that the Reserve Bank has put another bullet in the chamber and are prepared to do what is necessary to prevent a boom-bust property cycle eventuating".
What's changing?
* Reserve Bank is moving on the big four banks: ANZ, Westpac, BNZ and ASB.
* The banks will need more capital to back mortgages where the borrower's deposit is less than 20 per cent.
* The new rules kick in from September 30.
Source: Reserve Bank