NZ Sultan has selling trouble
Property Here - Tuesday, March 26, 2013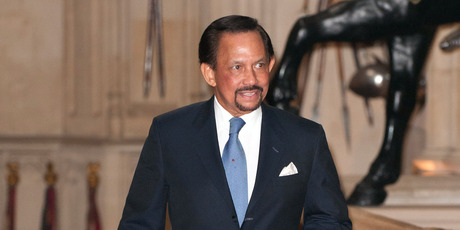 His Majesty Hassanal Bolkiah. Photo / AP
As one of the world's richest individuals he is unlikely to be too bothered, but the Sultan of Brunei, who is in New Zealand on a four-day state visit, has had trouble shifting some of his real estate here.
His Majesty Hassanal Bolkiah, 66, who will chair the Association of Southeast Asian Nations (Asean) this year, will be given an official welcome at Government House in Wellington today.
With wealth estimated at more than US$20 billion ($24 billion), he has previously owned a clutch of New Zealand real estate, including gold-carpeted homes in Herne Bay.
He has also been linked with the ex-BNZ block at 125 Queen St, which has struggled to fill shop space since the bank moved down the road in late 2009, save for a New World Metro in its basement.
The sultan has been widely linked to the property through foreign investment company Milverton International Investments, which is still listed as owner onQV.co.nz.
Last year, it was reported that Conrad Properties was close to buying the tower, possibly to be converted to apartments, but real estate agent Graham Wall yesterday said it had not been sold.
The sultan has in the past owned 11 Herne Bay properties, although he rarely visited them and they were sold in 2005 for about $35 million.
Before the sale, the Weekend Herald took a tour of the properties, including the stately, two-level 19th century Wairangi villa, which featured cream carpets inlaid with 24-carat gold threads.
The properties also included a gym, squash court, pool and sauna rooms, a pond of tame carp and goldfish swimming beneath a waterfall.
The sultan's estimated fortune places him second on the Forbes 2011 Richest Royals list.
He is one of the world's largest car collectors, and has been reported to own an estimated 7000 vehicles, including Ferraris, Rolls-Royces and Mercedes.
The sultan arrived in New Zealand on his Royal Brunei 767-200, part of his luxury fleet which includes an Airbus A340-200 and Boeing 747.
According to Forbes, the sultan paid at least US$100 million through Lufthansa for a Boeing 747-430 and spent a further US$120 million to fit out the plane with a luxury interior, including washbasins of solid gold and Lalique crystal.
As the ruler of the oil-rich sultanate of Brunei on the island of Borneo, the absolute monarch provides subsidised housing, education and health to Brunei's 400,000 citizens, who pay no taxes.