NZ Study to decide if land will be sold
Property Here - Friday, June 21, 2013
Council votes for Devonport sale, but local board chairman predicts conditions imposed will block move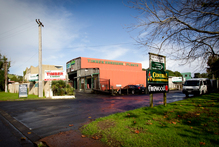 EXPAND
Part of 27 Lake Rd, Devonport could be sold. Photo / Sarah Ivey
Part of a large multi-million dollar piece of Devonport land could be sold by Auckland Council, but first a study of its future uses must be made.
A council committee this week voted to dispose of residual parts of 27 Lake Rd, with various riders such as protection of a historic building.
The site is home to Devonport Timber, the Devonport Garden Centre with enclosed outdoor plant area, Central Landscape and Garden Supplies, the local transfer or refuse station and the historic Clay Store building.
Devonport Takapuna Local Board chairman Chris Darby said he was confident that once a thorough study was undertaken of the land, there would be no residual property left to sell.
"I'm happy with the fact that there's no intention to dispose of the whole of 27 Lake Rd. It's what we were looking at nine months ago," he said yesterday.
The committee's decision is subject to reconfiguring the solid waste business unit refuse transfer station, incorporating protection of heritage elements into a master-planning exercise for the site, continuing community leases at the heritage Clay Store and getting the best urban design outcome for the site.
The board has raised concerns about future traffic congestion in the area if the land is redeveloped and wants a plan for its best use for the land opposite the Waitemata Golf Course on the the main road from Takapuna.
Interests associated with Progressive Enterprises have bought the neighbouring Firestone site at 25 Lake Rd, and speculation is that Progressive wants to buy the land for a new Countdown.
Local resident Roger Brittenden has encouraged the community to oppose the sale and said he was astonished that the issue of selling the council site had arisen, yet few people knew about it.
The local board wants the land to be a high-value employment site, and Mr Darby said he did not consider a supermarket fitted into that category.
The board wants a full master-plan developed for the site