NZ Spec build in inner city reaps $63m
Property Here - Wednesday, April 17, 2013
Interest in Lion's new home reflects scarcity of high-quality office buildings on market.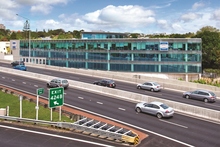 A street-level view of 27 Napier St, Freemans Bay, taken from across State Highway 1. Photo / Supplied
In one of this year's largest commercial property transactions Mansons TCLM has sold its recently developed GHD Building in central Auckland for $63 million.
The 8303sq m fully leased office building, located on a high-profile 4296sq m site overlooking State Highway 1 at 27 Napier St, Freemans Bay, has sold at a 7 per cent yield on its net annual rental income of $4,413,606 to an undisclosed private New Zealand investor.
Paul Hain, commercial agent with Bayleys Real Estate, who brokered the sale, says there was big interest from both local and offshore investors in the property, reflecting the scarcity of high-quality, high-value office buildings available to buy.
He says built-in annual rental growth of 3 per cent from long-term leases to two multinational tenants was a significant attraction.
"Competition for the property meant we were able to secure an offer at a strong yield for a property of this size which the vendor was happy to accept ahead of the closing date of the private treaty on April 24."
The building's largest tenant is Lion New Zealand, which will occupy 5139sq m of space on a 10-year lease, also negotiated by Paul Hain.
The company's beer, spirits and wine division will move from Newmarket in June. Its lease covers 2435sq m of ground-floor office space, a further 2704sq m on level one, a 388sq m external deck area and 141 basement car parking spaces.
GHD, a global engineering consultancy, is already occupying 3000sq m of space on the top two levels on a 12-year lease that includes naming rights for the building.
The GHD Building is one of several speculative projects undertaken by Mansons which began construction without tenant pre-commitment. The firm is also developing the 12,796sq m Nuffield Corporate Centre at 73 Remuera Rd, Newmarket, where more than half the space has been leased by Bayleys to Watercare Services and Avanti Finance. Scheduled completion is in December.
In the CBD, Mansons has also completed a five-level building at 162 Victoria St West. And in another transaction negotiated by Hain, two of the building's office floors have been leased to Paymark and Oracle while a Sierra cafe has leased space on the ground floor.
Mansons director Culum Manson says the buildings were planned and developed at a time when it was becoming obvious there was a looming shortage of good-quality, well-located office buildings capable of accommodating large tenants.
"We were sufficiently confident of the tenant demand for this type of premises to undertake a number of developments on 'spec'," Manson says. "We've focused on providing what larger tenants want: big, efficient floor plates and other features which keep their operating costs lower than for a traditional CBD building; good on-site parking and access to and from motorways and public transport; seismic soundness and sustainability."
Last week Mansons also unconditionally sold Courier Post House at 151 Victoria St West for $22.8 million to a private investor with a nine-year lease to New Zealand Post also at a 7 per cent yield. This represents a portion of the site Mansons bought from NZ Post at the end of last year.
Manson says the company is planning to begin the construction of a new 20,000sq m office building in July on the balance of the land.
It will have 3000sq m to 3500sq m floor plates and will be opposite Mansons' largest development undertaking: Telecom's $280 million campus-style headquarters.
Inner-city payday
Where: 27 Napier St, Freemans Bay.
Value: $63 million to undisclosed buyer.
Seller: Developer Mansons TCLM.
Feature: Spec building risk paid off.