NZ Some turn up to bid, and others merely to watch
Property Here - Tuesday, July 09, 2013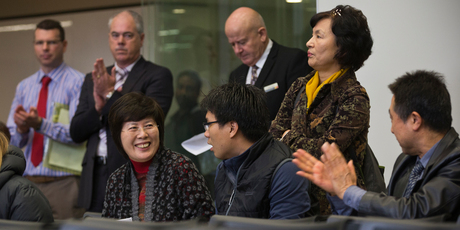 Lee Choon-ok talks with her son Peter Bae after they successfully bid for a home in Swanson which they will rent out. Photo / Greg Bowker
Choon-ok Lee and her son Peter Bae have arrived at Barfoot & Thompson's central Auckland auction rooms to bid on the home at 504 Swanson Rd, Ranui.
She has been in New Zealand 20 years but says her English is not good. She wants her son to get this house.
The property is fourth on the order-of-sale list on a Friday, with six houses going under Tim McGoldrick's hammer in total.
Ming Xian, 38, a salesman and Chinese migrant who has lived here for 10 years, is also keen on that three-bedroom Kiwi bungalow with polished floors and a double garage. He already owns other properties. Despite showing an interest, he does not bid.
Mr Bae, 35, a business manager, starts his bidding at $460,000 but strikes opposition via someone on the phone. His bids are eventually boosted up to $532,000 to secure the west Auckland house - 18km from the city. He says afterwards the price was necessary to reach the reserve.
Ram and Zabee Mohan, who migrated from India two years ago, are just watching to see how the process goes.
The sale of 719 Remuera Rd is postponed and there are no bids on 12 Neesons Way in Glendene. Two tidy, presentable Huntly houses go for $79,000 and $140,000.
The auction is over fast, and nothing compared to what is planned on the next auction day, tomorrow, when about 60 properties are up. That auction will start at 10am and not finish till later in the afternoon.

The statistics
• 9 per cent of NZ houses sold to foreigners (people who do not live here)
• 22 per cent of that number are Australians
• 20 per cent are Chinese
• 13 per cent are British
• 14.8 per cent - The amount average Auckland house prices rose in the past year
• 39.1 per cent - The amount prices have risen since the end of 2008.
Source: BNZ-REINZ Residential Market Survey/Tony Alexander