NZ Rotorua Redwood Centre popular
Property Here - Wednesday, June 26, 2013
Investors and tenants rush to snap up retail and commercial units.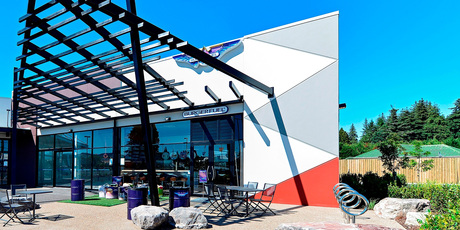 A unit occupied by Burger Fuel at Redwood Centre sold for $640,000.
Rotorua's Redwood Centre, a new retail and commercial hub at the intersection of Te Ngae and Tarawera Rds about 3km east of the city's CBD, is proving popular with investors as well as tenants.
Three units within the 4500sq m complex received a strong response from the investment market after being put up for sale by Mark Rendell of Bayleys Rotorua.
Two of them were among a range of properties from around the North Island that were offered for auction by Bayleys as part of its latest Total Property portfolio.
The anchor 828sq m unit designed to accommodate a medical centre, pharmacy and a physiotherapy practice within the Redwood Centre attracted strong bidding competition before selling under the hammer for $2.4 million at a 6.5 per cent yield.
Two of the tenants are on 10-year leases and the other is on a five-year term - all with fixed rent review increases and rights of renewal through to between 2028 and 2033.
A smaller, extensively fitted out 124sq m unit, occupied by Burger Fuel on an eight-year lease, sold for $640,000 at a 6.7 per cent yield. Rendell says sales at yields of under 7 per cent occur only occasionally in Rotorua.
Another 400sq m unit, occupied by Anytime Fitness, a 24-hour gymnasium, sold before auction for $1,050,000 at an 8 per cent yield. It has a six-year lease to a local franchisee of the worldwide chain of fitness centres with two yearly fixed rental increases linked to the Consumer Price Index (CPI) plus 2 per cent.
Rendell says the good prices achieved for the Redwood Centre properties reflect strong demand from investors.
"They were among the best commercial properties to have come on to the market in Rotorua in recent years. They are new purpose-built premises and as such their construction exceeds earthquake building compliance codes. Importantly for investors, they also all have long tenancies in place to established businesses.
The Redwood Centre opened in February with 19 new tenancies signing to be part of the hub. In addition to Burger Fuel, nationally branded tenants include Liquorland, Domino's Pizza and Bin Inn.
The centre has communal parking for more than 200 vehicles and is on a high-profile, busy corner intersection, with an average daily traffic flow of about 34,000 vehicles. Rendell says the location has also added to the appeal for tenants and investors.
Also selling at Bayleys Total Property auction in Rotorua was a 304sq m seven-year-old purpose-built childcare centre on a 1011sq m fully fenced site at 21 Sala St, which went under the hammer for $875,000 at an 8.1 per cent yield. It is leased to Earlybirds EduCare, with five years remaining on a 12-year lease and one six-year right of renewal.
Mark Slade, of Bayleys Rotorua, who sold the property, says it has a well established tenant which has tripled the capacity of its business from 50 to 150 children by leasing two nearby buildings to accommodate different aged pre-schoolers.
Slade has also been involved in the sale of a 1337sq m industrial building on a centrally located 2023sq m site at 24 Geddes Rd, Rotorua for $520,000 with vacant possession. The building has high stud warehousing plus office areas.
"There is strong demand for good quality, well located vacant premises in Rotorua, particularly from owner occupiers," Slade says.
Further Bayleys' Total Property auctions are in Auckland and Tauranga today and in Wellington tomorrow.
Sales report
On offer: Commercial and retail units
Where: Rotorua
Agency: Bayleys
Method of sale: Auction
Results: All units on offer sold at good prices.
Feature: Competitive bidding by investors.