NZ Queenstown site hits the market
Property Here - Wednesday, April 17, 2013
Historic 1863 building and adjoining land has considerable development opportunities in tourist mecca.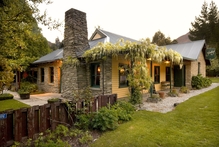 The exterior of the historic building housing Gantleys restaurant at Arthurs Point, Queenstown. Photo / Supplied
The land and heritage building housing Gantleys, one of Queenstown's top restaurants, and the original home to the area's pioneer lawman is for sale.
The single-storey stone and wood structure was built in 1863 as a wayside inn during the Central Otago gold rush with the original owner and occupier being Patrick Gantley, Queenstown's first policeman.
"The property has considerable development opportunities on adjoining bare land," says David Fea, of Bayleys Queenstown, who is marketing it for sale via expressions of interest closing next Wednesday.
"The historic building sits on 7046sq m of land at Arthurs Point, just out of Queenstown, and has been home to Gantleys Restaurant for two decades, which is a lifetime in the hospitality industry," says Fea.
During the early 1900s the building fell into disrepair, and served as a hay barn and woolshed until 1967 when it was purchased and rebuilt in its present form.
The owners purchased the property in 1993 and carried out an extensive renovation and refurbishment.
The fine dining restaurant now occupies 410sq m and consists of a full commercial kitchen, seating for up to 100 guests in either casual restaurant dining or formal function configurations, a wine cellar, bathrooms and back office space.
Gantleys Restaurant Ltd has a lease on the building and a total of 16 per cent of the surrounding land until 2019, generating rental of $75,000 plus GST a year. The remaining 84 per cent of the land is available for immediate development.
Fea says that with a high profile 120m street frontage on the road linking Queenstown with Coronet Peak ski field and Arrowtown, the property could be further developed from its current single usage.
"A Rural Visitor zoning allows for a range of commercial activities so the vacant land on offer would support future developments such as boutique heritage-style accommodation units, a more casual ancillary licensed establishment offering something different from that currently delivered at Gantleys, or boutique retail premises in keeping with the existing character building.
"There has been a suggestion that the land adjacent to the restaurant could be used to add new facilities allowing for larger functions or conferences, or for two events like a wedding or corporate gathering to be held simultaneously and catered for from the existing restaurant kitchen."
Fea says Arthurs Point has evolved substantially as a Queenstown suburb over the past two decades.
"When Gantleys first opened, for example, there was virtually no adjacent residential development. Now there are hundreds of homes," Fea says.
"This gradual suburbanisation of Arthur's Point has made the location more accessible for customers coming out from Queenstown."
Gantleys has won an Award of Excellence from USA's Wine Spectator magazine every year since 1996 for having "one of the most outstanding restaurant wine lists in the world" and it is also a former winner of the Montana Food and Wine Challenge.
Fea says the restaurant business is not part of the current sale offering but it could be purchased separately subject to negotiation.
Historic site
On offer: Historic 1863 building and adjoining land
Tenant: Gantleys restaurant, Arthurs Point
Agent: David Fea of Bayleys Queenstown
Method of sale: Expressions of interest closing April 24.
Feature: Development potential.