NZ Quake fears dominate construction sector, conference told
Property Here - Tuesday, April 09, 2013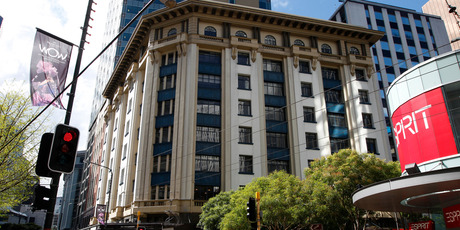 The Harcourts Building on the corner of Lambton Quay and Grey Street, Wellington. Once valued at $22m, now $10m with few tenants due to its lack of seismic strengthening. Photo / Mark Mitchell
The multi-billion dollar construction industry is at such an extraordinary phase that the first big national building conference in some years is being held in Auckland today, industry representatives heard this morning.
Malcolm Fleming of Accent Architects told the Institute of Building conference that this year's Mainzeal collapse emphasised that and many people thought they were at the bottom of the cycle, only to find things got worse.
Many firms were half the size they had been, he said.
Richard Chung of Wellington consultants Wareham Cameron said seismic issues were the single biggest challenge "whether it's a sale and purchase, a lease or an alteration or extension, seismic is often the number one issue that needs to be addressed."
He cited Lambton Quay's 85-year-old Harcourts building, an earthquake prone structure once worth $22m but now worth $10m, once fully occupied now with a handful of cheap 'pop-up' tenants on the ground floor, confronted with the issue of what to do with the structure which was uneconomic to strengthen, refurbish or re-lease.
The Historic Places Trust-listed building could not be demolished and "heritage should be placed ahead of economic realities", leaving the owner with a building better knocked down by an earthquake, Chung said.
"The whole market for most of the ageing Wellington stock is going through a process of trying to attract tenants who want safe buildings, of at least two thirds up to 100 per cent of new building standard. Trying to get engineers to agree on what the rating is, is troublesome. A lot of owners are wondering how to address this," said Chung, a valuer.
The Government had an occupancy savings target of about $100 million nationally, aiming to address the 130,000sq m of potentially under-utilised space in Wellington alone, Chung said.
But he also showed how the NZIER forecast construction activity to grow to more than $30 billion annually.