NZ Property Report: So you want to live in... Newmarket
Property Here - Monday, June 03, 2013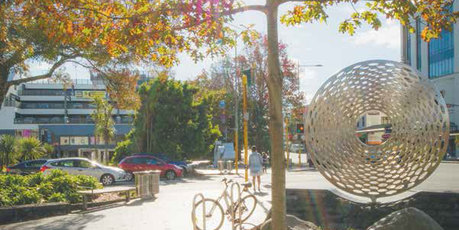 Lumsden Green on the corner of Khyber Pass Rd and Broadway Newmarket. Photo / Ted Baghurst
Commerce was behind the establishment of Newmarket and that is still what drives it today. In the 1840s the area was farmland along with other businesses such as breweries and hotels. The suburb derives its name from the new cattle markets that were established there in 1850. Later on, market gardens were set up either side of Khyber Pass Rd.
While many of the suburb's historic buildings have fallen victim to the march of progress, some remain such as the historic homestead Highwic, on Gillies Ave, and the odd commercial building or hotel.
These days Newmarket is renowned for its shopping, particularly its fashion, but also has many bars and restaurants as well as two movie complexes and an Olympic pool. It's not a scene you would have envisaged back in the early 1980s when Broadway, the main thoroughfare, was pretty shabby. Revitalisation began with developments such as the 277 Newmarket mall on the corner of Broadway and Morrow St. Plans are afoot to double the size of the mall - at an estimated cost of $250 million - by developing land to the south and linking it with an airbridge over Mortimer Pass.
The revitalisation of the area has continued in recent years with the development of precincts such as Osborne St and Nuffield St, which have become boutique areas with fashion stores, cafes, bars and restaurants.
Ashley Church, the CEO of the Newmarket Business Association, says the latter developments have been helpful in "trying to broaden the focus away from just fashion to hospitality as well", something the association hopes will make Newmarket more of a destination.
As well as funding public art works to the tune of $40,000 a year, the association runs various events such as a heritage festival and 30 Days of Fashion and Beauty to highlight what the suburb has to offer.
There are other major developments planned for the suburb including the release by the NZTA of land underneath the Newmarket viaduct that will probably become a mixture of retail, residential and office buildings with some public open space on land that is at present largely occupied by carparks and car sales yards.
But Ashley says the most exciting prospect is the University of Auckland's acquisition of the former Lion brewery site on Khyber Pass Rd. The university is to establish another campus on the 5.2ha site and the redevelopment should also see improvements to Khyber Pass Rd.
He says, "We estimate that on any given day 12,500 people live and work in Newmarket and we think that the campus development will probably double that figure so it's going to be massive for the area."
The arrival of the new campus will add another dimension to a suburb that has everything from intimate ethnic eateries - many of which are grouped around the bottom of Khyber Pass Rd - to big box retailers.
With land in the suburb so valuable, there are few standalone homes. Most dwellings are part of apartment or townhouse developments such as Broadway Park that appeal to either younger or much older buyers. While Newmarket is in zone for the desirable Epsom Girls' Grammar and Auckland Grammar, the style of homes tend to appeal more to Kiwis who have lived overseas in big cities or immigrants from Asia, Britain and the United States.
Transport links are also a big part of Newmarket's appeal, with easy access to the motorway, and good bus and train services.
Those people living in the new apartment blocks built around the redeveloped Newmarket train station have trains leaving from their doorstep. The new station and improved service has been a huge boost to the area although the square between the station and Broadway has become a cause for concern because of its poor design and limited access to the main street.
Ashley says the business association is considering starting up a farmers market in the square to breathe some life into the space.
One public space that does work well is the Auckland Domain, with its playing fields, walks, gardens and museum. Homes overlooking the domain are highly sought after.
PROPERTY PRICES
An entry-level property, typically an apartment, with one to three bedrooms costs between $300,000 and 500,000. An average apartment with two or three bedrooms usually sells for between $500,000 and $700,000, while larger, more luxurious apartments sell for $1 million-plus.
RECENT SALES
Barfoot & Thompson has three examples of sales across the price spectrum, including a two-bedroom, one-bathroom apartment at 8/118 Broadway that went for $510,000. A two-bedroom, two-bathroom apartment at 2A/36 James Cook Cres with garaging for two cars changed hands for $690,000. A two-bedroom terrace home with the domain across the road at 1E George St sold for $1.0605 million.
ON THE MARKET
Barfoot & Thompson has a number of properties available in Kings Square, a large apartment complex at 176 Broadway, that range in price from $450,000 to $1.1 million. Duncan Wu is marketing apartment 507 in this building and it is a freehold dwelling with two bedrooms, two bathrooms, a big balcony, a secure undercover car park and an asking price of $450,000.
RENTS
Being a primarily commercial and retail area, there are few standalone homes in Newmarket and hardly any for rent. One-bedroom apartments tend to cost $300-plus a week, while two-bedroom apartments or terrace homes can cost anywhere from $450 to $900 a week. Three-bedroom homes start at around $700 a week.
LOCAL ATTRACTIONS
Retail therapy
While Newmarket is renowned for its fashion stores - large and small - it also has boutique shops selling everything from jewellery and fabrics to homewares and gift items.
Auckland Domain
One of the best places in Auckland to stretch your legs, kick a ball or enjoy a picnic. While the redeveloped museum is a popular attraction, the Domain has some beautiful gardens (including the historic Wintergarden) and some lovely woodland walks.
Dinner and a movie
With two cinema multiplexes - Rialto and Event Cinemas - and a wealth of bars and eateries, Newmarket is a great spot to meet up for dinner and a movie. There are many Asian restaurants but other tastes are catered for - from modern bistro style to classic French.
BEST STREETS
George St, Almorah Pl, Maungawhau St, James Cook Cres, John Stokes Tce.
SCHOOLS IN THE AREA
Newmarket School, Auckland Normal Intermediate, St Peters College, Auckland Grammar and Epsom Girls' Grammar.