NZ Property Report: Hamilton leads the way but provinces stay subdued
Property Here - Monday, June 03, 2013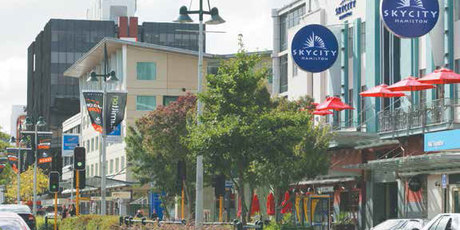 Hamilton was the first provincial centre to get a lift after the Auckland boom, reporting a gentle upturn about nine months ago. File Photo / Herald on Sunday
Real estate agents and property owners in the provincial areas must look at the headlines on the latest Auckland property boom and wonder when decent good news is going to start flowing their way.
It did that in the 2002-2007 boom, when investors helped by loan-easy banks moved to the rural towns and provincial cities as Auckland's prices went beyond their reach. They invested in such numbers, in fact, that prices in many provincial centres rose by more, in percentage terms, than they did in Auckland.
But there was a price to pay: when the boom hit a brick wall and the country entered recession, the provincial property market endured four or five years of miserable sale levels and falling or flat prices.
Some rural towns are still in that mire, but the Auckland fireworks are starting to feed through to at least a couple of the big provincial cities. Hamilton was the first to get a lift, reporting the first signs of a gentle upturn about nine months ago, and now Tauranga is looking a little sunnier.
Prices elsewhere in the upper-North Island, though, are a problem:
• Whangarei (down 0.8 per cent for the year to March 31, and down 17.4 per cent from the 2007 peak);
• Hamilton (up 4.9 per cent for the year to March 31; down 6.2 per cent from the peak);
• Tauranga (up 0.8 per cent for the year to March 31; down 10.7 per cent from the peak);
• Rotorua (down 0.3 per cent for the year to March 31; down 13.5 per cent from the peak).
• Taupo (down 1.4 per cent for the year to March 31; down 14.8 per cent from the peak)
Richard Allen, a valuer with QV in Hamilton, says "things are ticking along quite nicely" with supply pretty much in balance with demand and investors starting to emerge.
"But nothing special is happening with prices," he says.
"People certainly aren't getting ridiculous money. It's incremental - steady as she goes."
Across the Kaimais in Tauranga, QV's Paul Thomas reports "a little bit more optimism... people seem a bit more confident and things are starting to look a bit better". He's noticed more inquiries from Aucklanders, but a lack of job prospects in Tauranga means the city won't be flooded by refugees from big city prices.
In Rotorua and Taupo, the same lack of work opportunity continues to restrain the local economy. QV's Susan Lock says properties are selling and agents want more listings but, unlike in Auckland, decent demand is not pushing prices. New-home buyers "want to get in at low prices, but not everyone is letting them go at that level".
In Northland, it is still hard going and QV's Jeff Robinson says he can't see any significant changes in the next couple of years. Demand has lifted a little in recent months, but prices have stayed flat.
While mortgages are lower in the provincial cities than they are in Auckland, the big question remains: if prices are struggling when interest rates are low, what happens when those rates start rising?