NZ PFI merger with Direct Property fair - advisers
Property Here - Wednesday, May 22, 2013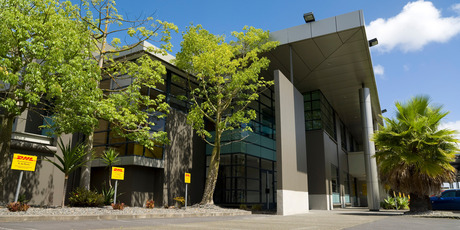 DHL Supply Chain NZ's Mt Wellington site one of PFI's properties. Photo / Robin Hodgkinson
Property For Industry's proposed merger with Direct Property Fund to create an $800 million industrial property empire is fair, according to independent appraisals released today.
Independent directors of both companies today recommended the plan to shareholders after it gained the tick of approval from independent experts Deloitte and PwC.
Shares in Property For Industry dropped 0.7 per cent $1.33, having gained 9.8 per cent so far this year.
The merger would create the fifth largest listed property group on New Zealand's share market with a capitalisation of about $510 million. Property For Industry shareholders, who will own 53.6 per cent of the new company, and Direct Property Fund's investors, who would own 46.4 per cent, will benefit from increased share liquidity, more diversification from a larger portfolio, increased dividends and operating efficiencies.
"The merger has merit for the shareholders of both Property For Industry and Direct Property Fund and the benefits of the merger are shared fairly between the shareholders of Property For Industry and Direct Property Fund." Deloitte said in its independent report to shareholders.
"There are no material negative financial impacts for either shareholder group."
Dividends per share are forecast to rise 10.7 per cent for Property For Industry stockholders and by 4 per cent for Direct Property Fund investors. The merger is expected to be broadly earnings neutral for both shareholder groups on average over time, Deloitte said.
Property For Industry's ranking in the NZX50 Index is expected to jump to 29 from 42, increasing institutional investor interest in the stock. Direct Property Fund is unlisted with its shares currently traded on the Computershare platform Sharemart.
The larger company should have better access to equity and debt markets, reducing the cost of capital, Deloitte said. It is expected to have a gearing ratio of 38.6 per cent, compared with 41.2 per cent for Direct Property Fund and 33 per cent for Property For Industry.
The merged company may sell off some properties to buy higher quality industrial property in the nation's main urban centres and also develop its existing land.
As part of the merger, Property For Industry wants to increase director fees by $100,000 to a total of $280,000 to enable Direct Property Fund's chairman Arthur Young and director John Waller to join the combined board.
The benefits of the merger more than offset an increase in management fees, PwC said in its report.
Shareholders will vote on the merger June 24, with the combined entity slated to start trading July 1.