NZ Opportunity knocks at this historic site
Property Here - Wednesday, August 21, 2013
High-profile spot close to major road links on sale for second time in 95 years.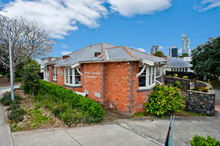 Exterior street level view of Grace Abbott House, for sale at 415 Lake Rd on the corner of Lake Rd and Esmonde Rd, Takapuna.
A North Shore brick-and-tile property constructed in 1918 that has strong historical connections to Takapuna and early Auckland is being offered for sale by auction at the end of this month.
Grace Abbott House at 415 Lake Rd, Takapuna, was built for Lionel Abbott, the son of John Abbott, an owner of Hurstmere House at 288 Hurstmere Rd, Takapuna, and founder of the Jubilee Institute for the Blind in 1890. It was designed by architect George Selwyn Goldsbro.
Lionel Abbott's wife, Grace, was a major benefactor towards Takapuna's first library building in The Strand in 1956, donating £20,000 to the project.
Mrs Abbott's parents were friends of Irish playwright and author George Bernard Shaw and, when he visited New Zealand in 1934, she met him.
"Properties of this calibre are tightly held as evidenced by the fact that this is only the second time it has been offered for sale in the last 95 years," says Andrew Bruce, commercial sales and leasing broker for NAI Harcourts, Takapuna, who is selling the property with colleague Rob Meister.
The property will go under the hammer on site at 415 Lake Rd at 12pm on Saturday, August 31, unless it is sold prior to the auction.
"The sale represents a very rare opportunity for owner-occupiers and investors alike," says Bruce.
"While it looks residential, it has in fact been in commercial use for over 50 years.
"Of particular interest is the fact that it was originally bequeathed to the North Shore City Council and has been occupied for commercial use from 1960 until today.
"It is now offered for sale with immediate vacant possession, making it an ideal property for owner-occupiers seeking the ultimate in character, space and high-profile corner exposure.
"The building is very much a Parnell or Ponsonby-styled property on the North Shore and was occupied as the administration offices for the North Shore Drainage Board until its amalgamation with North Shore City Council.
"It has also been used as a medical health centre and office. For the last seven years, Verde, a boutique garden design store with showroom selling home wares, has operated from the property along with a cafe and separate commercial office tenancy."
The building comprises a floor area of about 247sq m with drive-through vehicle access and parking for 17 to 18 vehicles. The 1305sq m freehold and rectangular shaped site is zoned Residential 4A on the North Shore City Council District Plan. Under the Draft Unitary Plan 415, Lake Road is zoned "Terrace Housing & Apartment Buildings".
It has a street frontage to Lake Rd of 25.48 metres and depth to the rear boundary, or frontage to Esmonde Rd, of 51.31 metres.
The contour is generally flat with a gentle slope rising from the Lake Rd frontage.
"Situated on the corner of Lake Road and Esmonde Road, this is a high-profile corner position benefiting from excellent exposure to traffic travelling into Takapuna and Devonport," Meister says.
"Lake Road is the main arterial route linking Takapuna to Devonport and Esmonde Road extends off the western side of this and connects directly to the State Highway 1 motorway.
"The property is only 600 metres south of the Takapuna commercial centre with its shops, services, offices, cafes and restaurants. A world-class one-kilometre-long beach is also just a short walk away."
Bruce says the property does have a council Category B Heritage protection but "it is understood" that it does not have a New Zealand Historic Places Trust listing.
What's on offer
For sale: Brick and tile commercial building
Where: 415 Lake Rd, Takapuna
Sales method: By auction unless sold prior
Date: 12pm on Saturday, August 31.
Agents: Andrew Bruce and Rob Meister of NAI Harcourts, Takapuna.
* High profile corner site
* Existing long-term commercial use.
* Close to the Takapuna commercial centre.
* Easy access to the motorway and Auckland CBD.
* Appealing heritage building with character and history.