NZ One-bed do-up for $550,000
Property Here - Monday, May 13, 2013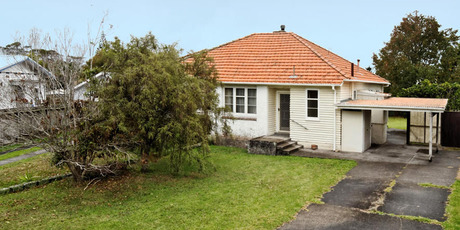 This one-bedroom unit attached to a state house in Mt Albert fetched $550,000 at auction. Photo / Supplied
A one-bedroom unit attached to a state house in Auckland has reached $550,000 at auction.
The 1950s weatherboard home in Mt Albert, is only 69sq m and needs a lot of work.
It had not been renovated in the 30 years the former owner lived in it.
Donald Hamilton, aged in his 90s, has now moved to a rest home in the Waikato to be closer to his family.
He bought the home in 1983 for $33,500.
Photos inside show ripped wallpaper, dated carpet and the original kitchen and bathroom.
But John Covich, from Anne Duncan Real Estate, said the house was on a section of 521sq m, and being on freehold land, not a unit title, the new owner was able to build on to the property, as long as it complied with the council's height to boundary rules.
"It needs a total makeover. The wallpaper needs to be stripped, the ceilings in the lounge and bedroom re-done, the carpet pulled up and ideally a re-modelled floor plan to make more efficient use of space."
The neighbouring property is also one bedroom and owned by Housing New Zealand.
A 41-year-old woman bought the house with plans to live in it and renovate.
"It's going to be her home, she said she's going to do it up and love it as she can afford to," Mr Covich said. "She's quite attached to it."
The new owner, who did not want to be named, wrote on the real estate agent's page last week: "I'm so happy and looking forward to moving in and restoring the house and garden (although slowly!)"
Several women had looked through the home, with three registering for the auction as well as eight other groups, including investors and developers. Bidding had opened at $350,000 on the property, which has a capital valuation of $480,000.
"Very little, if anything, is selling in that location for under CV," Mr Covich said.
"But in this case, we thought it might, given the fact it's a total do-up."
The address was sought after as it was within the zone for Mt Albert Grammar, Gladstone Primary and close to transport links, Mr Covich said.
"That whole area there in the northeastern corner of Mt Albert is quite in demand."
Mark Taylor, 36, who narrowly missed out on the house at auction said the sale price was a ridiculous amount.
"I've been told in my time, that going to auctions you should bid with your head not your heart, and that doesn't seem to be happening anymore."