NZ November auction is offering lots
Property Here - Saturday, October 26, 2013
Three top-quality properties feature in the Insite portfolio's final auction of the year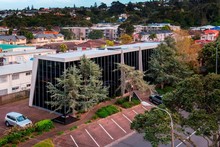 EXPAND
A three level commercial building for sale at 39 Anzac Rd, Browns Bay.
Three North Shore properties including high-profile buildings in Browns Bay and Milford, and a popular corner retail outlet in Hillcrest, are up for auction on the same day next month.
They are among 15 properties featured in Barfoot & Thompson Commercial's final Insite portfolio for the year which includes a three-level Symonds St corner office building and a New Lynn garden centre. They are also going under the hammer at the same auction at 10.30am on Thursday, November 14.
"The building at 39 Anzac Rd occupies a wonderfully prominent position on the northern side of the intersection of Anzac and Glen Roads in Browns Bay township," says Gary Seekup of Barfoot & Thompson Commercial, who is marketing the property with colleague Tim Bibby.
The three-level property, which will go under the hammer at the agency's Auckland CBD auction room at 34 Shortland St, comprises five separate stratum in freehold unit titles on a land area of 1037sq m and generates annual income of about $117,000 plus GST.
"Anzac Rd is one of Browns Bay's main access roads while Glen Rd is a smaller road bordering the township's commercial and retail areas," Seekup says.
"Being a corner site, the property has good traffic exposure and there is a good level of on-street car parking that is not always available in the centre of the shopping area."
Bibby says the site is about 250 metres to Clyde Rd, Browns Bay's main street, and a few metres further to Browns Bay Beach.
"The property is zoned Residential 6C1 with a height restriction of eight metres but under the Auckland City Council's Unitary Plan it is proposed to lift this restriction to 16.5 metres and rezone to Business mixed-use zoning," Bibby says.
The regular oblong shaped site has a 18.76m frontage to Anzac Rd and a 55.32m frontage to Glen Road. "The site rises gradually from both roads to give it an impressive profile to the building."
The tenants include Lewis Callanan Solicitors, Browns Bay Physiotherapy Care, St Mark Law, Beejay Browns Bay, Financial Success Group, InsuranceFind and Dimitri Galaktopoulos. The various leases have final expiries ranging from June 2015 to November 2020.
Bibby says part of one unit within the complex comprising 27.82sq m is vacant, with one entire unit having an area of 154sq m.
In Milford another multi-tenanted high-profile building, on the seaside suburb's main road, is also being marketed by Seekup with colleague Bruce Jiao.
Seekup says the 296sq m property on a 261sq m freehold site at 83-85 Kitchener Rd is fully tenanted and generates income of $60,222 net per annum. It is zoned Business 2 under the North Shore Operative District Plan.
"This is a two-storey commercial building comprising ground-floor retail space separated into two tenancies and a first-floor retail showroom," he says.
The tenants are Talay Thai Restaurant, Claire Stredder and Carnival Costumes Hire.
Jiao says the building occupies an almost rectangular road site with a frontage to Kitchener Rd of 12.2m and an average depth of 21.1m.
"Kitchener Road is a busy street with a constant pedestrian flow that has been boosted in recent years by the redevelopment of the Milford Shopping Centre with its supermarket and food court," Jiao says.
"A wide variety of stores in the centre include anchor tenants The Warehouse and Whitcoulls and serve the Milford, Westlake, Forrest Hill and Crown Hill regions with the wider catchment taking in the greater North Shore urban areas including Takapuna."
To the west a well-patronised corner retail property at 23 Ocean View Rd and 2 Hillcrest Avenue, Northcote, will also go under the hammer in the November 14 auction.
"This is a two-storey building constructed in the 1950s on a prominent North Shore corner," says David Mayhew, sales manager of Barfoot & Thompson's North Shore Commercial office who is marketing it with colleague Nigel Hall.
The property has two established ground-floor retail tenancies with a floor area of 680sq m plus first floor amenities and offices of 247sq m.
It generates annual income of $295,809 gross of council rates.
The freehold flat land area of 2861sq m is in two titles. Originally occupied in 1952 by the Morris Supermarket, 23-25 Ocean View Rd houses the building and comprises 2155sq m with a Business 1 zoning. The 2 Hillcrest Ave site is a 706sq m area that provides car parking and has a Residential 4A zoning.
"While the car parking area enhances the shopping experience for the customers of the two stores, a new owner could explore the possibility with the council of building more retail or commercial premises," says Mayhew.
The three tenancies comprise Simply Fresh, a 45-year-old fruit and vegetable business, and a Mad Butcher outlet, both on five by eight year leases from September 2012; and an upstairs office on a three by eight year lease from September 2012.
"In 2009 the Mad Butcher tenancy was completely rebuilt to a high standard by amalgamating the old bakery, dairy and the takeaway tenancies," says Mayhew.
"It should also be noted that the property has been re-presented to the market with engineering plans and has a written quote from Eagle and Franich Construction with costs to bring the building up to earthquake standard.
"The vendor has agreed to complete all the earthquake strengthening work to bring the property up to earthquake standards with two years of settlement and has agreed to have a portion of the sale proceeds retained in the purchaser's solicitor's trust account as a guarantee that the works will be completed.
"The location is 100 metres from the major intersection of corner of Lake Rd, Northcote Rd and Ocean View Rd with all three of being primary feeders to well established residential areas.
"It is about 3km to any one of three State Highway One motorway entry/exits and only 10 minutes from the Auckland CBD in off-peak traffic.
"The town centres of Northcote, Birkenhead, Glenfield, Beachaven, Birkdale and Takapuna are all within a 5km radius."
Mayhew says the long leases, lengthy retail history and two well-established businesses make the property "ideal for a passive investor looking to cement a strong cash flow with nominal input".
Over the harbour bridge, Barfoot & Thompson Commercial agents Wayne Muir and Kim Loo are also marketing a property for the November 14 auction.
"This three-level building at 124 Symonds St, Eden Terrace, in the Auckland city fringe, is on a freehold 155.9sq m site and is being sold with vacant possession," Muir says.
"The building has a total area of about 465sq m over three similar levels and is at the intersection of the Symonds Street State Highway One motorway off ramp and the eastern side of Symonds Street.
"The position is elevated with extensive views from the building over Auckland city and the harbour with the elevation ensuring the views can't be built out because of the intervening motorway complex and Grafton Gully."
Muir says the land is zoned Business Activity 8 - a higher intensity zone designed to promote site amalgamation, planned business centres and to cater for a wide range of business and residential activities.
"There is only a limited supply of this zoning in the city, which can be a benefit in the future."
Loo says the building is constructed of concrete block, concrete precast floors and Dimondeck iron roofing.
"It appears to be well maintained and has been further upgraded by polished concrete floors and decoration along with upgraded toilet and bathroom facilities.
"The property is within 800 metres of Queen St and Upper Queen St and public transport is available outside the door.
"Motorway access north and south is also nearby as is the route of the proposed inner city rail link."
To the west, a fifth property to be offered at the same auction next month comprises a near flat site operating as a garden centre and cafe in New Lynn.
Agent Agnes Teh says the 10-12 Margan Ave property "represents a superb investment proposition for investors and for developers".
The property has a net lettable area of 1187sq m on a 2214 freehold site and has two tenants paying a total of $85,000 annually.
"It is situated close to the New Lynn Town Centre, train station and transport centre," Teh says.
Leases to the garden centre and a café both expire in January 2015 with rights of renewal for two further terms each.