NZ New $500m office complex for Auckland
Property Here - Monday, March 25, 2013
Fonterra set to be first tenant for Fletcher and Goodman development near waterfront.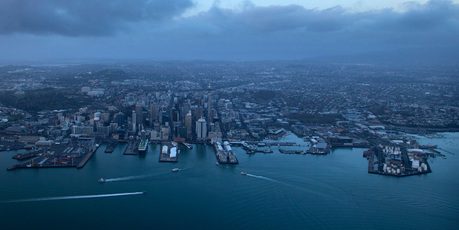 Work on the new $60 million to $80 million Fonterra block will start this year. Photo / Brett Phibbs
Fletcher Building and Goodman Group are planning a $500 million four- to five-building commercial office precinct near Auckland's waterfront, a boss involved in the deal says.
Greg Pritchard, Fletcher Construction's Building + Interiors general manager, said Fonterra was set to be the first business to lease premises on the site, which the country's biggest builder would put up on the block bounded by Fanshawe, Daldy, Gaunt and Halsey Sts, excluding Caltex Fanshawe St.
The two companies see the area near Wynyard Quarter as having so much potential that they have planned a premium-grade, eco-friendly, mini-office suburb on the city's western fringes, potentially attracting many other businesses.
"The idea is that the site will be developed into four- or five-building sites," Pritchard said. "The site allows for 50,000sq m of development, and Fonterra will take up approximately 12,000sq m of that."
Work on the new $60 million to $80 million Fonterra block will start this year after Fletcher finishes the nearby ASB North Wharf, but Pritchard said the full precinct on Viaduct Harbour Holdings' land could take about five years to complete.
Resource consents secured by former lessee Manson TCLM allowed for 5ha of commercial floor space and about 640 car parks to rise six levels on the reclaimed land, "with a park which could take a cricket pitch although it would be a small one". The buildings would not be connected.
"They will be discrete buildings. They will all stand alone but the idea is for a full precinct and an amenity-like open space and a park. We haven't considered the retail side of it yet," Pritchard said.
Fletcher bought Manson's lease for about $13 million around 2010, and Pritchard said it was paying more than $1 million annually for the site, now home to the Systems Commercial Furniture building and car parks.
Fonterra said last week it had selected the preferred site for its new headquarters on Fanshawe St, although it had not yet signed a lease.
Goodman and Fletcher would work together with Fonterra to finalise building design, structure, and negotiations for a tenancy agreement, the dairy company said.
Pritchard said a Jasmax team, led by Andy Anderson, would design the Fonterra block, but precisely where that would sit was undecided.
"We've put a number of concepts to Fonterra but it's yet to firm up anything concrete." The biggest challenge was building on reclaimed land, thought to be contaminated.
"Really, a lot of the land we're assuming is contaminated because the whole site is reclaimed. So any material removed requires planning over how that's remediated," he said.
"It remains to be seen whether we build on grade or go a level down for the car parking. We might dig down a whole level on the site."
Fonterra was seeking around 200 carparks.
Fonterra deal
*About 900 staff to work in new HQ.
*Moving from many sites, including Princes St.
*Fletcher/Goodman joint venture has won bid.
*Work on the $60 million-$80 million block to start this year.