NZ Mortgagee sales slump to four year low
Property Here - Friday, April 26, 2013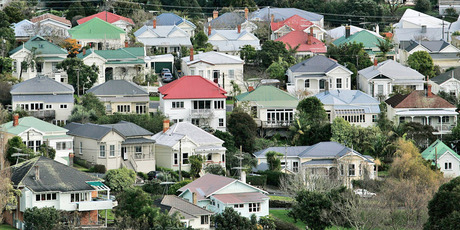 The number of mortgagee sales last year was 30 per cent less than 2009. Photo / Herald on Sunday
The number of mortgagee sales in New Zealand fell to a four-year low last year.
In the last quarter of 2012, there were 461 mortgagee sales, 11 per cent down from the previous quarter and 24 per cent less than the same quarter the year before, according to statistics released today by Terralink International.
For the full year, there were 2,106 forced sales, the lowest since 2008 and a full 30 per cent less than at the depths of the recession in 2009.
Those who owned between two and five properties make up 31 per cent of all mortgagee sales, with those owning just one property accounting for 15 per cent.
Terralink managing director Mike Donald said the downward trend had started in mid 2012. He said there was some regional variation in the mortgagee sales stats, with the Auckland number falling 26 per cent in the quarter, while other parts of New Zealand - including Marlborough, Taranaki, Waikato, Canterbury, Nelson and Bay of Plenty saw increases.
Donald said there was a split emerging between Auckland and the rest of country, with towns and cities outside our main economic hub making up a greater percentage of forced sales.
In 2007, 41.5 per cent of mortgagee sales were in Auckland. That has been steadily declining year on year, and in the last quarter just 21.9 per cent of mortgagee sales were in Auckland.
By comparison, the percentage of forced sales in the rest of the country has increased from 58.5 per cent in 2007 to 78.1 per cent.
Recent property sales numbers have shown a similar divergence in the market between Auckland and the regions.
Earlier this month the Real Estate Institute said 8,128 houses were sold in March, up 23 percent from February and 11 per cent from the same month a year earlier. The national median price rose an annual 8.1 per cent to $400,000, the first time it's broken the $400,000 mark.
About 90 per cent of the increase in the median price came from Auckland and Canterbury over the past year, meaning those markets, which account for just over half of all sales, are over-represented.
"There's a real danger that the Auckland housing market is mistaken for the New Zealand housing market, and that regulatory decisions will be made on the assumption that conditions in Auckland and Canterbury are replicated across the rest of the country," chief executive Helen O'Sullivan said in a statement.
The REINZ stratified housing price index, which smooths out peaks and troughs, rose 2.4 per cent from February, and was up an annual 8.6 per cent. But Auckland's stratified housing price index jumped 16 per cent on an annual basis.

- NZ Herald