NZ Melbourne giant to dwarf Sky Tower
Property Here - Tuesday, April 16, 2013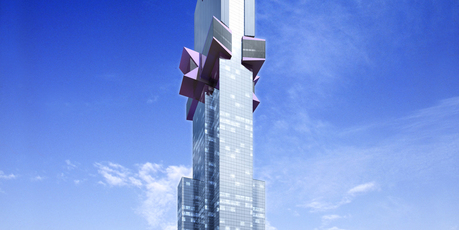 Architects Fender Katsalidis said they used the Commonwealth star on the Australian flag as inspiration for a starburst feature at the summit. Photo / Supplied
A towering 108-level Melbourne apartment/hotel block set to be one of the world's tallest buildings will be about 30 storeys higher than Auckland's Sky Tower.
While the debate over intensification rages here, Australia 108 could rise 388m at 70 Southbank Boulevard near the Yarra, eclipsing Auckland Sky Tower's 328m.
That will make the controversial new skyscraper the Southern Hemisphere's tallest building. It has been designed by the team behind Melbourne's 91-level 297m Eureka Tower.
Architects Fender Katsalidis said they used the Commonwealth star on the Australian flag as inspiration for a starburst feature at the summit.
The block, which has planning approval, is designed to have a six-star hotel at the top, with its lobby on level 84, the architects said, although fears have been raised about shadowing the city's Shrine of Remembrance.
Nick Kearney, deputy chairman of the North Shore's Kaipataki Local Board, called for new Auckland towers planned under the council's intensive Unitary Plan to be well-designed.
"They intensified [in Melbourne] with good urban design. So it can be done. I'm not opposed to a compact city," he said but the balance between urban and rural land was wrong.
Australia's current tallest building, the Q1 tower on the Gold Coast, is 323m and 71 storeys.