NZ Mainzeal assets to be auctioned off
Property Here - Tuesday, April 23, 2013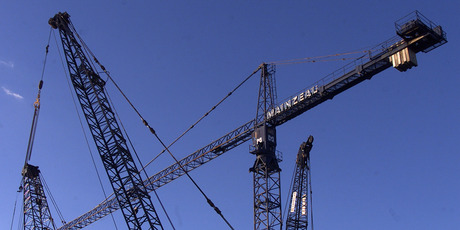 Everything, from Mainzeal's toilet blocks to tower cranes, is being sold off. Photo / Derek Flynn
Assets belonging to failed construction company Mainzeal - including everything from toilet blocks to tower cranes - are being put under the hammer.
Turners Auctions said it had been asked by the receivers of Mainzeal Property and Construction to carry out a mass sale of the company's assets.
Jason Tredgett, a senior valuer and auctioneer, said most items, including power cables, office furniture, hand tools, ladders and shipping containers, would go on the block at a series of auctions around the country next month.
All heavy machinery, such as tower cranes, scissor lifts and building hoists, was open for tender, Tredgett said.
"The receivers asked us to go to the market and bring back the right price."
PwC partners Colin McCloy and David Bridgman would make the final call on whether those tenders were acceptable, Tredgett said. "We're just the party that gets the best offers."
McCloy confirmed that Turners was undertaking a tender and auction process but said any overall valuation of the assets was commercially sensitive.
"The objective is to sell the plant and equipment and generate funds for the receivership process," McCloy said.
Mainzeal Property and Construction was New Zealand's third-largest construction firm when it went into receivership on Waitangi Day, leaving workers and subcontractors locked out of about 40 worksites.
McCloy and Bridgman were appointed as receivers to the group in February and the company was placed into liquidation later that month.
According to the receivers' first report, Mainzeal owes $11.3 million to its only first-ranking secured creditor, Bank of New Zealand.
Unsecured trade creditors are owed about $70 million, not including payments and invoices for January and February.
Employees are owed $5.2 million and the Inland Revenue Department is probably owed $600,000, the report indicated.
This month the receivers cut Mainzeal's full-time staff numbers from 500 to just 14.
Mainzeal's key assets are listed with a book value of $111.4 million, of which $71 million is related party receivables, $21.2 million contract receivables, fixed assets $12.3 million and residential properties $5.9 million.
Tenders for Mainzeal's assets close on May 9 at 4pm. Auctions are to be held in Palmerston North, Hamilton, Christchurch, Auckland and Wellington, starting on May 1 and ending on May 29.