NZ Luxury resort the pride of Paihia
Property Here - Wednesday, November 13, 2013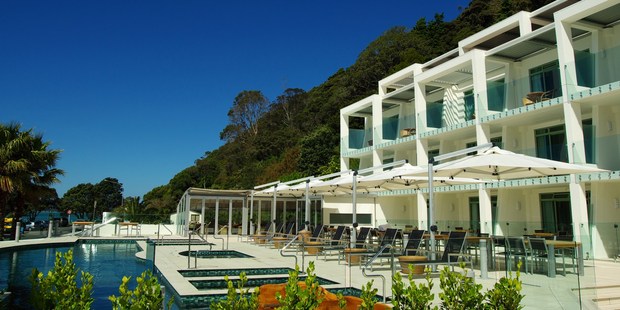 Paihia Beach Resort and Spa for sale on the waterfront at 116 Marsden Rd, Paihia, Bay of Islands.
Prime waterfront property makes most of a glorious setting in the Bay of Islands.
An award-winning accommodation and resort property in the Bay of Islands tourism centre of Paihia is for sale, with the owner keen to exit before the busy Christmas and New Year holidays.
"Prime waterfront properties don't come on the market very often in New Zealand, let alone in the Bay of Islands," says Chester Rendell of Bayleys Paihia who, with Michael Pleciak of Bayleys head office in Auckland, is marketing it for sale by tender closing at 4pm on November 28.
The 22 accommodation suites within the five-level Paihia Beach Resort and Spa at 116 Marsden Rd are described by Rendell as "more apartment-style than hotel rooms". The resort includes a 40-seat restaurant called Pure Tastes and a health spa trading as La Spa Naturale Day and Hair Spa.
"The restaurant and spa are a great complement to the accommodation business so the property does live up to its resort label and we believe it will attract strong interest from tourism operators, individuals and families," Rendells says. "The rooms all have sea views, as does the restaurant and bar on a first level pool deck where there is a big 20m pool and five hot jacuzzis." There are also steam and sauna rooms.
The restaurant and bar, spa, reception area and back-of-house facilities are all held as common property.
Rendell says Paihia Beach Resort and Spa forms part of a freehold strata title incorporating the hotel units and associated guest facilities.
The ground floor contains the lobby and reception area, management office, hotel car parking, bathroom amenities and back-of-house areas including pool plant and storage rooms, laundry and housekeeping facilities, maintenance room, and rubbish and recycling storage area. A lift near the reception area provides access to all floors.
The restaurant and bar, including a commercial kitchen, are on level one along with the bathroom amenities and six guestrooms - four poolside studios and the one two-bedroom suite. A studio adjoins another one bedroom suite with interlocking door.
Level two has five superior studio guestrooms and a guest laundry and linen room. On the third level are five superior suite guestrooms and a housekeeping/linen room and the top level has five spa studio guestrooms and a housekeeping room.
The resort is just across the road from Paihia's main beach. The mainly concrete structure was built in the 1990s and underwent a major refurbishment in 2008.
Guest rooms and public areas are serviced by ducted air-conditioning, with individual room controls and there is a full automatic fire sprinkler system incorporating smoke and thermal detectors, dry riser mains, hand-held fire hose reels, fire extinguishers and exit sign. Closed-circuit TV covers various areas.
"The entire 2002sq m property has a total of 28 unit titles which gives any new owner multiple options with ownership and structure," Rendell says.
"It would be in any new owners' interest to take over pre-Christmas to take advantage of the substantial forward bookings and what is forecast to be a busy the summer season."
The resort and spa is only about 550m from Paihia's commercial centre, which has restaurants, cafes and ferry terminals to other Bay of Islands' towns and which services local tourist operators.
The resort's beachside, mainly level site is on the southern side of Marsden Rd at the intersection of Marsden Rd and Davis Crescent, which is towards the northern end of Paihia. The property's rear boundary adjoins a scenic reserve.
Paihia is just 3km south of Waitangi, while the historic town of Russell is on the opposite shore and is accessed by car ferry from nearby Opua.
Paihia itself is a three-hour drive from Auckland and Air New Zealand runs daily return tips to Kerikeri with a flight time is 40 minutes.