NZ La dolce vita in eastern suburbs all yours for $10 million plus
Property Here - Saturday, April 13, 2013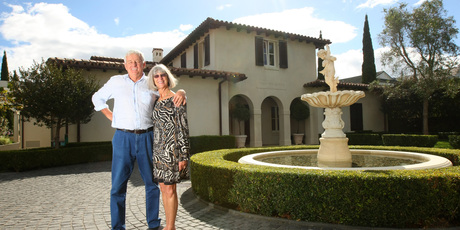 Brian and Gwen Frecker at their $9 million-plus home on Cliff Rd, St Heliers, where they have lived for 12 years. Photo / Chris Gorman
An Auckland couple who made their fortune in dairies and supermarkets hope their luxurious Italian-style villa in St Heliers will sell for more than $10 million.
The 1796sq m house sits on a double section on exclusive Cliff Rd overlooking Waitemata Harbour.
It has four bedrooms, each with an en suite, a 22m indoor heated pool, wine cellar, steam room, a home cinema, a two-bedroom gatehouse and a garage with more than enough room for four vehicles.
The house is the type of property pushing St Heliers into the million dollar club - where house values average $1 million, according to figures from PropertyIQ.
The Cliff Rd property owners, grocery entrepreneurs Brian and Gwen Frecker, are giving it up to downsize.
They bought their first dairy in Brisbane in the 1970s before moving to New Zealand and "trading up". They had dairies, a fish and chip shop and a supermarket in Rotorua and in 2002 bought Pak'nSave in Glen Innes.
"The house has been fantastic for our family. We never thought we would end up with a house like this. We just worked hard and took opportunities when they came up and we also took risks," Mr Frecker said.
The couple, who have been married for 45 years, have three daughters and seven grandchildren. "We love the house but it's too big for us now. We want somewhere that needs less looking after," Mr Frecker said.
Before building the villa they knew they wanted an Italian-inspired home.
"We had been to Italy and loved everything from the food to the people.
"A friend recommended Melbourne architect Stephen Akehurst who had trained in Italy and we went with him to Lake Como to look at the homes," Mr Frecker said.
"It took two years to build the house and was a massive project. We imported Italian stone, fireplaces, wooden shutters and roof tiles from Italy.
"We totally overdid the budget but it was worth it."
The couple are moving to a Kohimarama penthouse apartment where they hope to stamp a south of France theme on their new home.
The house, being sold by Bayleys by international tender, had a 2011 council valuation of $9 million.
Trent Quinton, residential sales representative for Bayleys, said: "It is possibly one of the most expensive houses we have ever had on the books at Bayleys."