NZ Insurance premium rises hammer Precinct
Property Here - Wednesday, July 24, 2013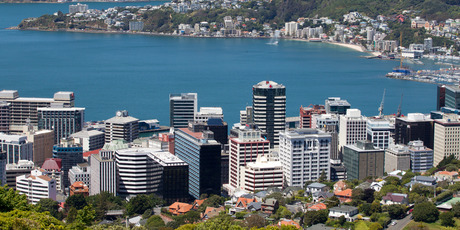 Insurers already rate Wellington a far higher risk than Auckland: Wellington commercial landlords face a stiff excess of 5 per cent of the sum insured. Photo / Mark Mitchell
Precinct Properties NZ, with 10 Wellington office blocks worth more than $600 million, has been hammered by insurance premium rises and its boss expressed fears after the latest earthquakes.
Scott Pritchard, chief executive of the $1.6 billion landlord, said Wellington premiums rose 154 per cent in two years, from $10.1/sq m of floor space in May 2010 to $25.7/sq m by May 2012 and nationally premiums rose 165 per cent.
Insurers already rate Wellington a far higher risk than Auckland: Wellington commercial landlords face a stiff excess of 5 per cent of the sum insured compared to Auckland at just 2.5 per cent, Precinct's latest annual report showed.
Pritchard said the situation had been improving, until the latest Wellington quakes in the past few days.
"We renewed our insurance two months ago and premiums had started coming back down again from those levels in the annual report. But events like this impact on premiums and the extent of any increases."
Jeremy Simpson, Forsyth Barr's senior equity analyst, said Precinct had the largest Wellington exposure of any of the listed trusts or companies but its buildings were of high quality and highly rated assets.
Precinct has already put in place a $15 million to $25 million five to eight-year seismic upgrade of its properties.
Damage to Precinct's Wellington buildings appeared to be limited to lifts not working, some air conditioning units malfunctioning and leaking, he said.
Precinct's NZX notice said no major damage was reported but inspections were under way. Precinct's Wellington CBD office towers made up 40 per cent of the company's $1.6 billion property portfolio but Pritchard said three years ago Wellington buildings comprised 60 per cent of the portfolio.
That changed as the company bought more Auckland properties, particularly expanding its CBD Auckland waterfront holdings to 2ha by buying Westfield's Downtown shopping centre which it will redevelop.
Precinct shares closed steady yesterday at $1.06.
Ian Cassels, a director and shareholder of The Wellington Company and the Property Council's Wellington president, estimated there had been $100,000 damage to 12 buildings worth about $500 million which his business owned and managed.
Chris Gudgeon, chief executive of Kiwi Income Property Trust which has real estate valued at $2.08 billion, described limited problems at Willis St's 28-level The Majestic Centre.