NZ Important to find right loan mix
Property Here - Thursday, May 30, 2013
It's confusing for new home buyers but selecting the suitable mortgage option pays off.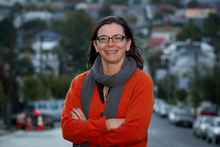 Shandelle Battersby found it hard to decide how to divide her $210,000 loan between fixed and floating rates. Photo / Richard Robinson
Shandelle Battersby has just re-negotiated her mortgage, continuing to fix most of it and float the rest. The 36-year-old bought her first home, a two-bedroom duplex in Onehunga, at a mortgagee auction for $272,000 in 2011.
Her deposit was $62,000 and her home loan $210,000 with ASB, where she has banked for years.
Ms Battersby, a production journalist for the Herald, went on the advice of her bank manager to sign up for a two-year fixed rate of 5.7 per cent for $160,000 of the mortgage and float $50,000 at 5.65 per cent.
That rate recently came up for renewal and she fixed at two years again, but the rate had come down to 5.45 per cent. The repayments are about $300 a week, which she said gave her the flexibility to be able to save money for emergencies.
Mortgage adviser Ravi Mehta said he advised his clients to float some of their mortgage only if they knew they could pay it off within a short time, because the rates fluctuated so much. Ms Battersby has got her $50,000 loan down to $16,296.
He advised people to split their loan into different fixed terms because short and long-term rates were determined by local and global markets which varied substantially.
"Fix for different maturities ... they should go for a mix. Like something for one, something for three, something for five years, because no one can predict interest rates."
He didn't expect the one-year rate to rise dramatically in a year, so Ms Battersby could have argued for her two-year term to be at a lower rate, about 5.15 per cent.
Ms Battersby said it was confusing for first-home buyers when deciding what mortgage rate to go with.
Fixed, float or both?
A young couple are buying their first home in Auckland for the average house price of $432,000. They are seeking a 25-year mortgage and have a 10 per cent deposit, borrowing $388,800. Using the mortgage calculator on Sorted.org.nz, we look at their options and John Bolton, of Squirrel Mortgages gives some advice.
Option 1 - half and half
The couple fix half of their mortgage and float the other half, based on the lowest current rates (4.99 per cent for a two-year rate and 5.65 per cent for floating rate).
Repayment: $540 per week
Over 25 years: Total to pay is $703,399 including $314,599 interest.
Rating: B
Mr Bolton says: "We generally recommend clients split their mortgage. This way your whole mortgage doesn't re-price at one time and it's easier to adjust to increases as rates start to rise."
Option 2 - all fixed
The couple fixed the whole mortgage (4.99 per cent for a two-year rate).
Repayment: $523 per week
Over 25 years: Total to pay is $680,639 including $291,839 interest.
Rating: C+
"I'm not a big fan of fixing everything on one term ... when will rates move?"
Option 3 - three-way split
The couple split their mortgage three ways. Eg: One, two and five-year rates. (One-year, 4.95 per cent; two-year, 4.99 per cent; and five-year, 5.99 per cent).
Repayment: $540 per week.
Over 25 years: Total to pay is $702,914 including $314,114 interest.
Score: A-
"Splitting the loan makes it easier to manage rate increases in the future. Although the five-year rate is higher upfront, if viewed over five years it will be a similar cost to the shorter-term fixed rates that will re-price sooner."
Final comments: "Focus less on the rate and more on trying to pay an extra $100 per week. This will save you $95,000 and take 6.5 years off the mortgage. Paying it back quicker is where the real savings are."
Note: The study is based on current rates, sustained for the duration of the mortgage.