NZ House pressures risk to financial stability - Wheeler
Property Here - Wednesday, May 08, 2013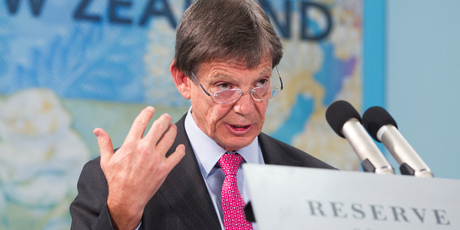 Reserve Bank Governor Graeme Wheeler. Photo / Mark Mitchell
Increasing pressure in a housing market where supply is failing to meet demand is posing a growing risk to New Zealand's financial stability, according to the Reserve Bank.
In the bank's six-monthly financial stability report, governor Graeme Wheeler said the country's financial health is still sound, though growing private sector credit and rising house prices which are already high pose a concern to the central bank. The fears have emerged as Auckland and Christchurch stand out as struggling to meet demand for housing and as banks become more tolerant of lending on smaller deposits.
"Further price escalation will worsen the potential damage that could result from a housing downturn following an economic or financial shock," Wheeler said in a statement. Housing pressures, arising from pent up demand, limited supply and the lowest interest rates in 50 years are being felt particularly in Auckland and Christchurch, where supply constraints are greatest."
The housing market has become a growing headache for the central bank, as Auckland sale prices hit new record highs in a rapidly heating market, while at the same time a strong currency has limited the bank's ability to stoke lending growth with lower rates.
One of the reasons behind the increase in higher loan-to-value ratios being offered was the improvement in bank profitability, with the banking system now earning a return on assets near the pre-global financial crisis level of 1 per cent per annum. Mortgage lending with an LVR of 80 per cent of more now accounts for about 20 per cent of banks' total residential loan books, and has made up about 30 per cent of new ending.
"The greater willingness of banks to approve high loan-to-value ratio mortgages has further increased the potential adverse impact of a fall in house prices," the bank's report said.
Because of that increase in high LVR lending, the central bank has been looking at lifting capital requirements for housing loans ad decided to lift the amount of regulatory capital required for the riskier lending.
Deputy governor Grant Spencer said the increase in weights will apply to all current and new high LVR loans for the major banks, and will result in an average increase of capital held for housing by about 12 per cent, from the end of September this year
The Reserve Bank said annual house price inflation was 9 per cent and prices exceed the previous 2007 peak by 5 per cent, with an increase in turnover over the past 12 months. While new supply will take some time to come online, the increased prices pose a risk to the economy if it causes excessive construction, which would ultimately cause a fall in house prices and lead to stress on bank and household balance sheets.
The increase in low equity home lending has also led to household balance sheets becoming more stretched as people take on higher debt relative to their assets and income.
"Signs that the more cautious approach to borrowing observed in recent years is beginning to stall are of concern, given the existing levels of debt and the longer-term downside risks to the housing market," the report said.
The central bank as also completed its consultation on a new tool-kit off macro-prudential instruments to cool asset bubbles, which includes the ability to set limits on high LVR lending.
A memorandum of understanding is expected to be signed with Finance Minister Bill English shortly, the bank said.
"The new framework provides the ability to temporarily tighten prudential settings if house prices and household borrowing continue to be of concern," the report said