NZ Home sales sizzle in NZ's most desirable suburb
Property Here - Tuesday, May 28, 2013
Herne Bay's north-facing slopes, views and closeness to the city and the Ponsonby cafe scene mean almost 100 properties have sold there in the past year, with an average price over the past three months of $1.98m.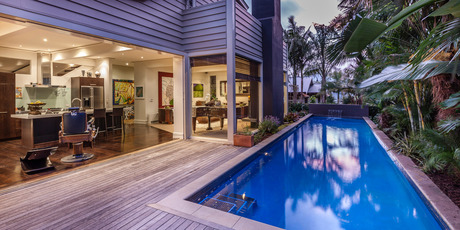 This 1920s weatherboard house sold for $2.25 million. Photo / Supplied
The country's most expensive suburb is out of reach for many with an average house price of nearly $2 million - but sales there are still thriving.
In Herne Bay almost 100 properties sold in the past year and 50 in the past six months, according to Real Estate Institute figures.
The median price in the suburb over the past three months is $1.48 million and the average is $1.985 million - $15,000 off the $2 million mark.
The number of sales is back to levels seen during the 2007 property boom when 100 properties sold in 12 months. It dropped off again a year later to 64 sales before peaking last year at 104.
The Herald has picked a pocket in the suburb to showcase the types of homes that make Herne Bay New Zealand's most prestigious suburb - but the results don't turn up beachfront mansions with home theatres, pools and sprawling backyards.
It shows just what kind of money Aucklanders are willing to pay for average homes so they can be close to the city centre and in a top school zone.
A list of all residential sales within a 250m radius of 1 Sentinel Rd, in the centre of the suburb, within the past six months, showed 23 in total. Some of the homes spilled into the edge of Ponsonby.
Fourteen of the homes sold for $1 million or more, while six went for $2 million-plus and two sold for more than $3 million.
Only one had a large section and most of the properties were villas or houses built before 1940.
Two were apartments. Another was a flat attached to two other units at 3/20 Hamilton Rd, which sold for $1.19 million.
One was a vacant section with resource consent approval to construct an eight-unit residential apartment building, at 14 Shelly Beach Rd, which sold for $2.77 million.
Only one of the homes had a pool, but it shared a driveway with a handful of other homes and had no back or front yard.
But all of the homes are within walking distance of the city centre and some had sea views of the Waitemata Harbour.
They were also all within the school zones for Auckland Girls' Grammar, Western Springs College, Ponsonby Intermediate and Ponsonby Primary School.
The most expensive house on the list was a pre-1914, four-bedroom home at 16 Salisbury St which sold for $3.95 million - $1 million over valuation. It had the biggest section, at 1267sq m.
The house that went for the most over valuation was a 2000s stucco home at 101 Jervois Rd, which was bought to use as an office by Gerrad Hall Architects. It sold for $2.45 million - $1.36 million over CV.
Bayleys real estate agent Karen Spires, who specialises in Herne Bay properties, said she had an average selling price of about $1.9 million and expected the average to hit $2 million within the next 12 months.
She recently sold the large 1907 Edwardian villa, Trentham House - a suburb landmark at 11 Shelly Beach Rd - for $3.2 million
Herne Bay was sought after because of its weather and proximity to the city, Ms Spires said.
"It's the sunny, northern slopes of Auckland, so all-day sun. It's a bit of a micro-climate ... it's always a couple of degrees warmer, it seems.
"It's north-facing and also close to Ponsonby, that's the drawcard - Ponsonby and the cafe scene, the restaurant scene. It's so central and close to all the action ... This is the life, you come here, you feel like you're alive.
"It's a real community feel, it's like a village, everyone knows everybody."
It was also close to the harbour bridge on-ramp and convenient for residents who had holiday homes at Omaha and further north.
It was mainly families and overseas buyers looking for properties in the area, Ms Spires said. She had also noticed more eastern residents and those living on the North Shore moving in.
But the number of listings was still tight, with Herne Bay residents sometimes unable to cash in on the hot market.
"A lot of people go out looking to buy but can't find what they want because the market is so tight.
"The area is so tight because there's not a lot of property on the market at any one time and they end up staying where they are and renovating," Ms Spires said.
"That happens a lot in the area."
Real Estate Institute chief executive Helen O'Sullivan said the scarcity of homes for sale in Herne Bay was a major drawcard for buyers.
"It doesn't matter how much land you release in Karaka, Herne Bay isn't going to get any better ... The more Auckland fills up with people, the more people want to live in the more desirable locations, the more people are chasing an absolutely finite number of properties.
"And Herne Bay is a nice part of the world, it's central, it's handy to Ponsonby, it's got lovely views. What more could you want in a city like Auckland?"
Ms O'Sullivan said the number of sales had risen partly because people were more confident than during the global financial crisis.
"You look at 2008 and everybody was convinced the sky was falling," said Ms O'Sullivan.
"We were in the middle of the GFC, credit was hard to come by, the economic outlook broadly was very grim and there was an expectation that house prices were falling so everybody stopped buying ... At the moment New Zealand is in a pretty good place economically compared to places like Europe."
But Ms O'Sullivan said she had not seen a trend of people trading up. Instead, they were moving for practical reasons such as a lifestyle change to the country, their house was too big, they had a new job elsewhere or they were divorcing or remarrying.