NZ Historic classroom faces end
Property Here - Wednesday, June 26, 2013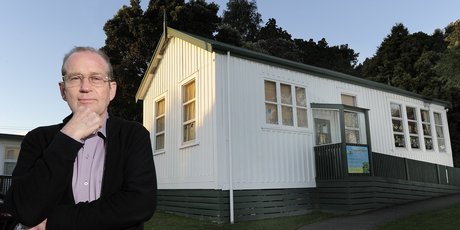 Otumoetai Primary has an 115 year old building, it is feared that it will be demolished. Photo / APN
Otumoetai Primary is planning to get rid of a classroom that has been on the site for 115 years.
Principal Geoff Opie said the school had been left with no choice because it needed two new classrooms to cater for a large number of 6 and 7-year-olds at the school. However, under Ministry of Education rules, it could not enlarge its floor space.
The school is yet to decide what to do with the building, but it could either be moved or demolished.
A number of parents have joined forces and sent a letter to the Board of Trustees about their wish to retain it on school property.
Principal Geoff Opie said every school was given a maximum square meterage, or "footprint" they weren't allowed to exceed, of which the 115-year-old classroom was a part.
He said upgrading the historic classroom to modern standards would cost too much and he knew getting rid of it would upset a lot of people, but the school had been left with no choice.
"The Ministry of Education doesn't want to do anything with the classroom, we need two more teaching spaces so they're saying get rid of the building.
Until that building goes, we're hamstrung."
The most cost-effective option was to convert other areas of the school into classrooms, including converting a part of the library and expanding a large classroom and making it into two separate classes. All other options were too draining on the school's five-year maintenance budget.
One parent, who wanted to remain anonymous, said she believed the school was rushing to build new classrooms before the school roll was capped.
"The more students they have, the more money they get. They're being greedy."
Board of Trustees chairwoman Jackie Webb said this was totally incorrect.
She said she had received a letter from an ex-principal of the school talking about his emotional attachment to the classroom, which was supported by nine other parents.
"We're stuck between a rock and a hard place. Since we got the letter, we've gone again to the ministry and said this is how the community feels about the building and we're waiting to hear back from them."
Mrs Webb said the board welcomed help from any parties that wished to fundraise and help the school keep the building.
A Ministry of Education spokesperson said the ministry wanted to provide modern learning environments for students.
"Individual schools can decide how they achieve this either through building new classrooms or refurbishing existing classrooms."
Historic Places Trust spokesman John O'Hare said the classroom wasn't registered or scheduled with the trust so there was no level of protection available.
The cost factor
Upgrading the historic class: $220,000+
Get rid of class and build two new classrooms: $375,000
Get rid of class and expand current teaching spaces: $175,000+