NZ Green promises are often not met
Property Here - Monday, April 22, 2013
Research finds property owners failing to implement more than 35 per cent of environmental undertakings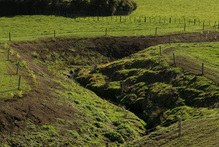 Research has found that agricultural operations are the worst offenders when it comes to keeping environmental promises. Photo / Mark Mitchell
A "troubling" new study has suggested that a third of resource consent holders are breaking environmental promises, with agriculture operations proving the worst offenders.
The study by a University of Waikato researcher and former compliance officer has prompted calls for authorities to crack down on environmental monitoring efforts.
In the first of three papers, Marie Brown assessed how pre-agreed "ecological compensation" was being met across 245 conditions in 81 different resource consents granted across the country.
Her study found just over 35 per cent of these requirements were not being met, with agriculture turning in the worst results by far out of all activity types surveyed.
Ms Brown said ecological compensation was separate to simply minimising environmental effects caused by a consented activity.
It could be a subdivision developer agreeing to restore a nearby wetland by repairing hydrology or undertaking pest control.
Of 10 activity categories surveyed on a scale of zero to three, the energy generation industry scored perfectly, meeting all conditions under issued consents.
Of the 104 subdivision consents, around three quarters of conditions were met, with the remainder almost achieving requirements.
Infrastructure and waste management activities scored much lower, with just 55 per cent and 50 per cent of conditions under these respective categories being fully met.
The bottom ranked activity was agriculture, where just under 5 per cent of agreed compensation was fully achieved.
Alarmingly, just over 71 per cent of conditions ranked zero, meaning they had either not been met or had been removed.
In other findings, public organisations and state-owned enterprises fared better for compliance than private companies and individuals.
Large-scale operations were found to have better compliance, as were those where compensation was agreed early in the application process.
"I think a lot of it is about resources, and expertise to even undertake the work - and I suppose I see that as an explanation, but not as an excuse," Ms Brown said.
"Because if we are allowing these exchanges, when we know that the proponent doesn't have the capacity to undertake the work, then we probably need to find a better way."
The paper also found room for improvement among decision-makers.
"The practice of agencies around compensation and compliance generally is an area where work could be done.
"There are a couple of councils that have internal practice notes, but it's basically a policy vacuum - and the problem with that is you end up with a huge amount of uncertainty and there's a real lack of leadership nationally."
Green MP Eugenie Sage said the research was "troubling" because nature was losing out in more than a third of the cases reviewed.
Ms Sage believed greater use of bonds by councils - and requiring compensation before development starts - would help achieve greater compliance.
"An example of this would be an applicant protecting an existing area of habitat, equivalent to that affected by development, rather than providing for revegetation which may or may not succeed."
She believed the Government's proposed changes to the Resource Management Act, such as removing five environmental criteria from its heart, would worsen the problem.
"They would mean less consideration of environmental impacts and less scope for consent conditions to reduce those impacts."
The newly released Statistics NZ Business Operations Survey shows there is no basis for the Government's assault on the Resource Management Act, the Green Party said.
Ms Sage also cited results of the 2012 Statistic NZ Business Operations Survey, which showed 77 per cent of businesses surveyed did not feel constrained by environmental regulations.
"Environmental regulations make up only 17 per cent of the resources which businesses spent on complying with rules and regulations," she said.
"We need rules that protect our environment, our economy depends on it."
A Ministry for the Environment spokeswoman said work was underway to improve the quality and quantity of information that showed how the resource management system was performing.
"New arrangements will also take account of the OECD framework currently under development to ensure our system is internationally consistent."