NZ dollar, swap rates rise after OCR review
Property Here - Wednesday, April 24, 2013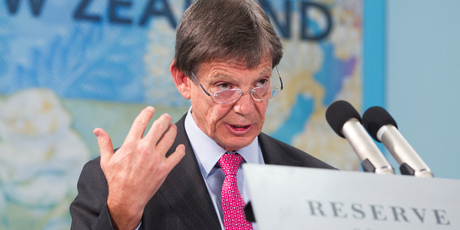 Reserve Bank Governor Graeme Wheeler. Photo / Mark Mitchell
The New Zealand dollar rose as much as 0.7 per cent against the greenback after Reserve Bank governor Graeme Wheeler backed off from talking down the currency at today's monetary policy review where he kept the benchmark rate unchanged.
Wheeler held the official cash rate at 2.5 per cent, as expected, saying inflation is set to stay near the bottom of his target band of between 1 per cent and 3 per cent this year, but will "gradually rise towards the 2 per cent target midpoint."
After saying the kiwi was "overvalued and higher than projected in March," some traders were expecting him to take a tougher stand on the currency, having reminded markets last month that a surging currency could force a rate cut.
The New Zealand dollar rose as high as 84.57 US cents from 83.89 cents immediately before the statement, and recently traded at 84.26, while two through five year swap rates were up about 2.5 points.
"The statement was very bland and what's happened is that rates have backed up a little bit," said Grant Hassell, head of fixed interest at AMP Capital Investors (New Zealand).
"Maybe some people were expecting more aggressive comments on the New Zealand dollar and some possibility they might leave a rate cut on the table."
The central bank has been juggling a booming housing market in Auckland and property shortage in Christchurch against a rampant kiwi dollar that's kept a lid on tradable inflation.
ASB economist Jane Turner said in a note the tension between the housing market and the strong currency intensified since March.
"Although there was potential for a slightly more dovish tone given the recent appreciation of the NZD, the tone of today's statement was similar to March," she said. "It appears many in the market were anticipating more opinionated comments on the NZD."
Government figures last week showed consumer prices rose at an annual pace of 0.9 per cent in the first three months of the year, the third quarter in a row where it's been below the central bank's target band.
Last month, Reserve Bank assistant governor John McDermott said the central bank could achieve its inflation target faster if it cut rates, though that could come at the expense of pumping an already bubbling property market.