NZ Chance to make a name in town
Property Here - Saturday, October 26, 2013
Queen St tower block a prime attraction in area that is attracting some of the big retail names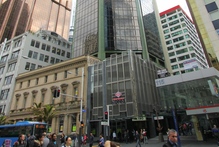 EXPAND
The former BNZ tower at 125 Queen Street.
Naming and signage rights are available on the 30-floor former BNZ Tower building at 125 Queen St, along with its street-level retail area and first-floor office space.
"My focus is on securing established businesses primarily within the fashion, banking, electronic and hospitality sectors for the retail level or ideally a larger department store operator," says Ray White Commercial retail and hotel specialist Brice Clark, who is marketing the available space for lease.
"The floor above the retail level also represents excellent potential for associated office use."
Clark is seeking tenants for the 1166sq m ground floor retail area and first-floor office space of 1065sq m.
"With Prada and Christian Dior shortly moving into refurbished premises in downtown Auckland to take advantage of the increasing cruise ship and tourist market, we believe the large, vacant retail and office area within the former BNZ Tower is likely to attract another international tenant," Clark says.
The tower, completed in 1984, was built for the Bank of New Zealand, and retained the facade of the first bank building on the site in the 1800s.
It was one of Auckland city's most distinctive buildings in the 1990s, when it housed not only the BNZ but also Australasian legal firm Minter Ellison Rudd Watts, which has moved to Shortland St. BNZ moved across the street into the Deloitte Centre at 80 Queen St when the 21-level building was completed in 2010.
Clark says that during the time the ground floor and first levels of 125 Queen St have been vacant, the look of downtown Auckland has changed.
"Neighbouring businesses are now Gucci, Louis Vuitton, Swarovski, Mont Blanc and Michael Hill Jewellers, and Prada and Christian Dior are soon to arrive on the scene," he says.
"The office tower already houses New World Metro, one of the company's best-performing supermarkets in New Zealand, which takes advantage of the CBD residential population as well as visitors wanting to do a bit of grocery and wine shopping.
"This precinct in Queen St around Shortland St, in particular, is home to some prestigious international brands and is an area which is also head office to some of New Zealand's largest corporate, legal and commercial services."
Clark says the former BNZ Tower contains one of the few spaces for lease of comparable size in Auckland's main street.
"Once it is leased, space of this size in Queen St is unlikely to become available again. And a new tenant would have the option of taking up naming rights.
"This is absolute prime retail real estate. It is close to the harbour with its growing influx of cruise ships, near to Auckland's central public transport network and only a short distance from the Britomart food and fashion hub. It is all these factors that are attracting the established, high-end, international retailers."
While the floor plates are more suitable for large format multi-national retailers, Clark says he is talking to international brands that are interested in the building.
"The space could also be subdivided for smaller operators. It has some natural splits in the retail space, multiple access points and frontage on three faces of the building. Parking is available on levels two and three, and there are parking buildings nearby."
Clark says there is always interest in space on Queen St and very little of it available.
"The leasing market overall is looking better than it was a couple of years ago and now the economy has improved, there is renewed interest in this building, especially the two floors currently available."