NZ building work surges in first quarter
Property Here - Wednesday, June 05, 2013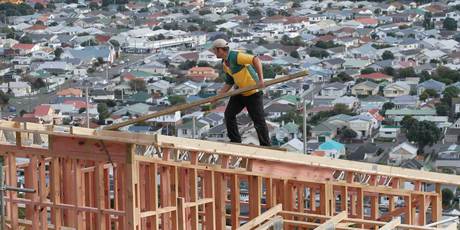 Canterbury building work rose 23 per cent in the first quarter. Photo / Mark Mitchell
New Zealand's building work grew for a sixth quarter in the first three months of the year, spurred by the biggest expansion in residential construction in more than a decade.
The volume of building work put in place rose a seasonally adjusted 5.8 per cent to $2.02 billion in the three months ended March 31, accelerating from a pace of 2 per cent in the December quarter, according to Statistics New Zealand.
That's the highest quarterly volume since September 2008. The growth was underpinned by a 12 per cent boost in residential activity to $1.1 billion, the biggest increase since September 2002, and accelerating from a pace of 1.6 per cent in December.
"Looking long-term, residential building activity has been trending up since September 2011 and is now at a level last seen in late 2008," industry and labour statistics manager Blair Cardno said in a statement.
Figures last week showed 17,922 new dwellings have been issued building consents in the 12 months ended April 31, worth $6.66 billion. That's 21 per cent more consents issued than a year earlier, at a 26 per cent greater value.
The building sector is seen as the driving force of the economy in coming years with the $40 billion reconstruction effort in Canterbury and a heating property market in Auckland struggling to meet increasing demand, though that's creating risks to New Zealand's financial stability as property values threaten to reach bubble-territory.
Canterbury showed the most growth with all building work rising 23 per cent compared to 5.1 per cent across the rest of New Zealand. Of that, residential activity gained 21 per cent compared to 11 per cent for the rest of New Zealand and non-residential work up 26 per cent compared to a drop of 4.5 per cent.
Total non-residential building work shrank 0.8 per cent to $922 million from growth of 2.5 per cent in December.
Westpac economist Nathan Penny said building work last quarter was stronger than expected.
"While the Canterbury rebuild dominated the increase in building activity this quarter, we point out that activity in the rest of the country is also ticking along. In particular, residential building activity in Auckland is strong.
The nationwide level of building activity was about half way to the peak of the last cycle, he said.
"We will be watching for signs of capacity constraints emerging as activity accelerates over the next couple of years."
The unadjusted value of all building work rose 22 per cent to $2.84 billion in the March quarter from the same period a year earlier, for annual growth of 15 per cent to $11.28 billion. Of that, residential work rose 33 per cent to $1.68 billion at an annual pace of 21 per cent to $6.45 billion. New dwellings jumped 40 per cent to $1.37 billion for annual growth of 26 per cent to $5.1 billion.
Non-residential building work increased 9.4 per cent to $1.15 billion for an annual gain of 6.7 per cent to $4.83 billion.