NZ Building consents up 1.3pc - Akl, Chch lead
Property Here - Friday, June 28, 2013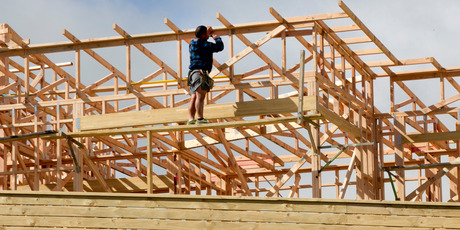 New building consents were up 1.3pc last month, with a big build up in Auckland apartments consents. Photo / Mark Mitchell
New Zealand's new building consents rose in May, adding to a surge in April, as construction intentions Auckland and Christchurch underpinned growth in the sector.
New building permits rose 1.3 per cent to a seasonally adjusted 1,818 last month, with a big build up in Auckland apartments, Statistics New Zealand said. The rose 21 per cent in April. Stripping out apartments, seasonally adjusted permits slipped 0.3 per cent to 1,591.
On an unadjusted basis, building consents climbed 44 per cent to 1,971 in May from the same month a year earlier, and excluding apartments were up 34 per cent to 1,752. New residential permits were up 22 per cent to 18,521 on an annual basis, and excluding apartments, consents were up 23 per cent to 16,754.
The Auckland and Canterbury regions accounted for about 57 per cent of the national total with 1,122 new permits issued in May.
The overheated property markets in Auckland and Christchurch has been creating headaches for the Reserve Bank, which is looking at implementing limits on low equity home loans as a means to stifle demand.
The country's construction sector is seen as the driving force in the economy in coming years with a $40 billion spend on rebuilding Christchurch, the country's second biggest city, and the need to meet a shortage of housing stock in the biggest city of Auckland.
Today's figures showed the value of non-residential construction permits rose 24 per cent to $434 million from a year earlier, and was up 9.2 per cent to $4.04 billion on an annual basis. The value of all building permits was up 32 per cent to $1.16 billion in May, and 19 per cent to $10.89 billion annually.
Westpac economist Michael Gordon said the building consent figures were "well ahead of forecasts".
"We think this series has been distorted by the earlier timing of Easter this year, resulting in a 9.7 per cent drop in March followed by a 21 per cent jump in April; a return to 'normal' levels would have implied a fall in May. But the underlying picture was clearly stronger than we expected," said Gordon.
"Some of the surprise was due to apartment units, which rose from an already-high 214 in April to 219 in May - in seasonally adjusted terms, this was the highest in four years. But ex-apartment consents were also remarkably strong (our attempt to correct for the Easter impact suggests a 4 per cent rise in May)."
ASB Bank economist Christina Leung said the increase in dwelling consents was again driven by the higher number of consents issued for apartments.
"Excluding the volatile apartment consent issuance component, core dwelling consents eased slightly. Nonetheless, beyond the monthly volatility the underlying trend in core dwelling consent issuance indicates a continued improvement in house-building demand."
"The increase in dwelling consent issuance in May reflects stronger house-building demand, particularly in Auckland and Canterbury where housing shortages are most acute. We expect these regions will remain the key drivers of higher residential construction activity over the coming years. The recovery in non-residential construction demand is also encouraging, and points to increasing confidence amongst businesses towards non-residential investment," said Leung.
" We expect underlying inflation pressures will lift later this year as construction activity continues to ramp up and capacity pressures build in the NZ economy. We continue to expect the Reserve Bank will first lift the OCR in March 2014."