NZ Big CHH sell-off a boon for buyers
Property Here - Wednesday, July 31, 2013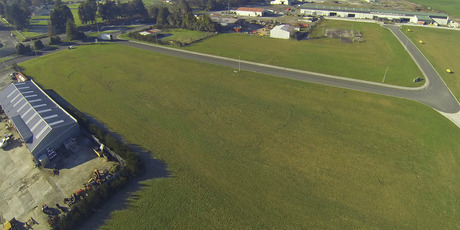 Seven sites are for sale in Tokoroa's Huttloc Drive Industrial Estate.
A sell-down of Carter Holt Harvey's remaining property assets in Tokoroa is being seen as an opportunity for buyers to secure prime industrial land in the South Waikato town at potentially below rateable values.
Brendon Bradley of Bayleys Tauranga, with Andrew Shaw and Mike Swanson of Bayleys Waikato, are handling the marketing of seven industrial sites in Huttloc Drive, one in Balmoral Drive, a bare land residential site in Melton Place, and the decommissioned CHH timber mill in Browning St, Tokoroa.
"CHH Properties have given strong and clear instructions that they want these industrial sites sold. Nine of them are going to auction with declared reserves, and the former timber mill site is up for tender," says Bradley. "This is the final sell-down for CHH and we can say wholeheartedly that this will be the most attractively priced industrial land the market has seen in the greater South Waikato area for a very long time.
"The sites are completely surplus to CHH requirements ... they will meet the market to move them on.
"We are expecting the properties to sell well below their September 2012 rateable values."
Up for auction on August 8 are seven industrial sections ranging in size from 1913sq m through to 4183sq m in the smartly presented Huttloc Drive Industrial Estate at the southern entrance to Tokoroa close to State Highway 1, with easy access via the Browning St exits. The Kinleith branch rail line borders the rear boundary of this industrial estate.
There are four adjoining sites on the northern side of Huttloc Drive, with a total area of 1.3467ha, and three adjoining on the road's southern side comprising a total area of 7625sq m.
Huttloc Drive is sealed and kerbed with council services including water, sewer and storm water all available in the subdivision. The sites are ready for immediate development.
Neighbouring businesses include Blue Pacific Minerals, Surface Coatings, J Swap Contractors, RJ Lincoln Transport, Firth Industries, Z Truck Stop and Tokoroa Welding.
Also to be auctioned is a vacant single 2244sq m industrial section in the established Balmoral Drive industrial zone with a good profile position on this busy main thoroughfare.
The area, dominated by local engineering companies, other timber-related businesses and freight/transport contractors, has direct access to SH1 with the intersection near the site.
The slightly elevated single vacant 777sq m residential section in Melton Place is in an established residential zone on the northern side of town accessed off Richmond Ave, which runs parallel to SH1. It too will be auctioned on August 8.
"These sites offer excellent options for owner occupiers, developers, investors or land-bankers with a vision for the future," says Bradley.
The day after the declared reserve auctions, August 9, tenders close on the former CHH timber mill, which is ready for immediate redevelopment.
The freehold 13.03ha site is on the corner of Browning St and SH1, with the railway line on one boundary.
"This sale represents an extremely affordable opportunity for owner occupiers or developers to purchase a huge industrial site with the benefit of an accessible labour force, and great access via SH1 and potentially the adjacent railway line," says Shaw.
"CHH Properties have given clear instructions that, as with the other sites to be auctioned, they want this property off their books. It is seriously for sale and the market will call the shots on the sales price."
Buildings on the site are 400sq m of relatively tidy offices, a 1400sq m shed with 7m stud, and 1080sq m of pole-frame open-sided sheds.
"We understand that there was an earlier consent granted for a dairy processing plant which could have made use of the existing buildings plus hardstand areas. The site would also suit manufacturing or timber processing-related uses; anyone, in fact, who needs a large, cheap site close to arterials."
In regards to the industrial sites, Bradley says there is an identified shortage of new modern industrial buildings available for lease or purchase in Tokoroa. The provincial location means overhead costs for businesses are generally much lower than metropolitan areas so there is a demand for good quality premises.
"The Tokoroa economy continues to be dominated by natural resource industries with the majority of employment based around forestry, farming and manufacturing," he says.
"Tokoroa's central location is a key advantage for the high-growth distribution sector and these sites definitely offer opportunities for associated business-related activities."