NZ Auckland residential property fund mooted
Property Here - Monday, April 08, 2013
Scheme plans to offer investors a share of groups of up to 10 Auckland houses.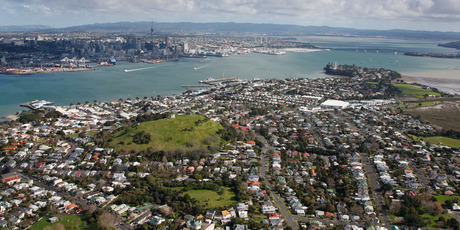 The promoter claims the scheme is a way to get benefit from the Auckland market. Photo / Brett Phibbs
Investors could soon be invited to put money into a new fund to buy Auckland residential property.
A scheme has been planned for some time to offer investors a share of groups of up to 10 three-bedroom houses, with people able to exit the funds after 11 years.
But the businesspeople involved said they could not talk about the plans due to tight financial market regulations and fear that they might be seen to be promoting the scheme before a prospectus was launched, expected mid-winter.
The promoter is understood to be about to offer an easy way for New Zealanders to invest in the Auckland housing market and the business has links to a prominent real estate specialist.
Wellington-based Shamubeel Eaqub of the NZIER asked why no such residential investment schemes were operating here, pointing to British publicity about the insurer Prudential buying more than 500 houses and flats to let in London and the south of England.
That scheme, worth £105.4 million ($190.8 million), is for real-estate management arm, Prupim, to buy a portfolio of 534 private rental units from upmarket housebuilder Berkeley and the British media reported that this was the first time in a generation that a large institutional investor has dipped into Britain's £840 billion rental market.
They pointed to that being a possible return to a pre-1945 era when insurance firms and other large funds, such as church groups, had bulging property portfolios. About 17 per cent of all households - 3.8 million homes in England - are rented privately, up from 10 per cent in 2008.
In New Zealand, 2013 Census, which cost about $72 million and was carried out in March, will provide the first up-to-date authoritative data on the number of properties rented.
The 2006 Census showed the number of dwellings owned by their occupants has fallen by 116,808 in the past 10 years, from 860,760 to 743,952. The number of households paying rent rose almost 100,000 in the same time, from 290,124 to 388,272. Ten years ago, about 80 per cent of dwellings were owner-occupied.