NZ Auckland house prices slip in April
Property Here - Friday, May 03, 2013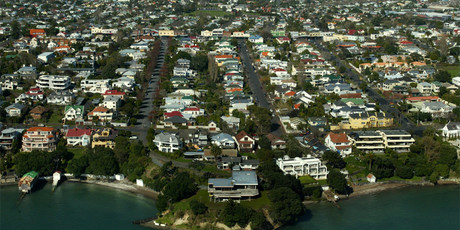 Average house prices in Auckland slipped last month, said Barfoot and Thompson. Photo / NZ Herald
Average house prices in Auckland fell from a record high last month, snapping a three-month advance, as more properties came to market, according to Barfoot & Thompson, the city's biggest realtor.
The average sale price fell about 0.5 per cent to $643,089, having reached a record $645,928 in March, the firm said. The median price dipped 2.4 per cent to $566,000
The number of new listings in April rose 3.8 per cent from March to 1,532 and was up 21 per cent from April 2012.
Barfoot sold 1,062 properties in April, the highest for that month in 11 years but still down by about a quarter from March. Some 40 per cent of all the sales in April were for under $500,000. There were 103 properties sold for in excess of a million dollars.
At month end Barfoot & Thompson had 3,467 properties on its books, its second lowest number in more than a decade and down 6.8 per cent on the number at the end of March, the firm said.
Jane Turner, senior economist at ASB Bank, said the latest numbers showed that the Auckland property market remained " supply - constrained".
"The lack of listings implies that demand may be higher than turnover suggests," she said.
"New listings increased over April, following two months of low new listings. Nonetheless, this was insufficient to meet demand, with total available listings continuing to decline. The imbalance between supply and demand continues to place upward pressure on Auckland house prices. "
Turner said she preferred to look at the property stats released by Quotable Value or the REINZ, which both "better adjust" for the changing composition of sales. These are released later this month.
"Housing turnover remains steady in Auckland. Low interest rates, improved household confidence, increased investor demand and a lift in net migration are supporting a modest increase in housing demand. However, the market remains supply constrained, largely due to low levels of housing construction," said Turner.
"Building consents figures suggest there has only been a limited increase in residential building demand in Auckland. As a result, we expect the housing market to remain tight and house prices to continue to rise in the region," she said.
Westpac economist Michael Gordon said while the level of sales had flattened out in recent months, sale prices have continued to climb and available supply had shrunk.
"The tightness of the Auckland market suggests room for further price gains," he said.
"We expect nationwide house prices to rise 9.5 per cent this year, and a further 7.5 per cent next year. Notably, the Reserve Bank's house price forecasts are not too dissimilar from ours. The point of difference is that the Reserve Bank expects the knock-on effects from house prices to household spending and inflation pressures to be more muted compared to past cycles. We're not convinced that this time will be different, and we maintain our view that higher interest rates will be needed from next year," said Gordon.
Last month's Real Estate Institute figures showed the number of New Zealand house sales rose to a six-year high in April and prices touched a new record as Auckland.
The national median price rose an annual 8.1 per cent to $400,000, the first time it's broken the $400,000 mark. About 90 per cent of the increase in the median price has come from Auckland and Canterbury over the past year.
with NZ Herald