NZ ANZ cuts one-year fixed mortgage rate
Property Here - Friday, May 24, 2013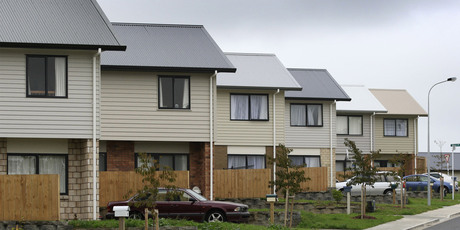 Photo / NZH
ANZ Bank has today dropped in its one-year fixed mortgage rate by 24 basis points for borrowers with a minimum of 20 per cent equity.
The new rate, down from 5.19 per cent to 4.95 per cent, comes into effect from tomorrow as part a new home loan package being offered by the bank.
The Reserve Bank has faced increasing pressure to address the country's heated property market by restricting the level of low-equity home loans banks can offer.
Loans where the borrower has a deposit of less than 20 per cent - known as high loan-to-value ratios (LVRs) - represent about 30 per cent of all new residential mortgage lending.
Such loans are most prevalent among people buying their first home.
As part of the Budget 2013 announcement last week, Finance Minister Bill English signed a memorandum of understanding with the Reserve Bank for a new set of tools to cool the housing market, which is particularly heated in Auckland and Christchurch.
The Reserve Bank would have the the ability to require lenders to hold more capital on their balance sheets against certain assets, or restricting low-equity home loans, English said.
Under the agreement with English, central bank governor Graeme Wheeler will make his final policy decision independent of the government, though he is expected to advise the Finance Minister of any macro-prudential policy decision.
The memorandum said the Reserve Bank would have to consider the impact on monetary policy settings when using the new tools, and "in most instances macro-prudential instruments will reinforce the stance of monetary policy".
The bank regulator has cited rising property values and the growing prevalence of low-equity lending as threats to the country's financial health.
According to Treasury forecasts, house price inflation will rise to 7.1 per cent in the 2013 and 2014 years, compared to a peak of 6.5 per cent so far this year, before slowing to between negative 1.3 per cent and plus 1.6 per cent over the following four years.
The International Monetary Fund last week said New Zealand housing wasovervalued by about 25 per cent and if it continued to rise may force the Reserve Bank to hike interest rates.
Property in New Zealand had become less affordable in the past two decades with the median house price at about 4 ½ times income, some 20 per cent higher than the average of the past 30 years, the IMF said in its annual report on the nation.
The IMF had previously seen New Zealand housing over-valued by between 10 per cent and 20 per cent.