NZ Amazing potential for expansion
Property Here - Wednesday, June 26, 2013
New owners could add more events to popular attraction.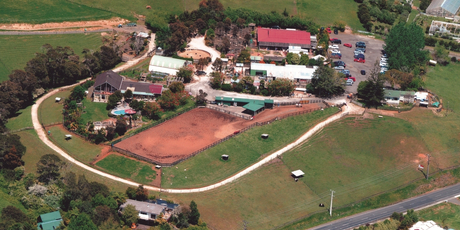 The Henderson property is easily accessible from all over Auckland and boasts the city's only maze attraction.
One of Waitakere's largest lifestyle blocks, the 6.8ha Kiwi Valley Farm Park and Maze complex in Henderson Valley Rd, is being offered for sale as a freehold property and going concern business.
"It is a very popular place and has the only maze attraction in Auckland," says David Savery of NAI Harcourts in Henderson who is selling Kiwi Valley via tenders closing on July 18.
"The property was bought and developed as a tourist attraction by Larry and Kathy Park 14 years ago and has been operated successfully ever since," Savery says.
The farm park business comes with a 30m by 60m horse riding arena, stables, large barn, the recently re-clad maze, walking tracks, plus sheds and farm equipment. The complex also has its own water treatment system and recycles all its wastewater. The business is run by two fulltime staff and three contract staff.
The property and business comes with a substantial family home with three-car garaging and two self-contained suites used for homestay guests, all set in private, landscaped grounds with an in-ground pool and spa complex. There is also a rented two-bedroom cottage on the site.
Savery says the award-winning business has been successful in attracting families, international and domestic visitors, schools and clubs.
"There are two reasons for this: it is accessible from all over Auckland, being close to Henderson's commercial centre and the motorway, with a bus service to the gate; and it offers a unique experience. Unlike a zoo, the animals are accessible to children who are encouraged to interact with them. Some children have never seen a New Zealand farm animal up close and it is a wonderful experience for them."
A cafe and pre-school on a separate title of 2233sq m within the complex is up for sale separately as an investment property and is producing a net annual rental income of $139,400.
"The Parks want to divest of Kiwi Valley to undertake other projects and there is significant potential to increase the turnover by running events in addition to the core business," Savery says.
"The eco-barn, where they hold shows for sheep shearing and team building, has tiered seating and a children's party area with barbecue facilities, and can just as easily be converted to accommodate other events for up to 100 guests," he says.
"There's a beautiful stand of native bush on the farm in a natural outdoor amphitheatre which will lend itself to one-day music festivals for instance."
The sealed carpark has space for up to 70 cars but an adjoining paddock can accommodate up to 300 vehicles in summer.
Another possibility is to reinstate the riding school that the Parks once ran from the property.
What's on offer
For sale: Kiwi Valley Farm Park and Maze.
Where: Henderson Valley Rd, Waitakere.
Agent: David Savery, NAI Harcourts Henderson.
Method of sale: Tenders closing July 18.
Features: Large lifestyle block of 6.8ha.
Only maze attraction in Auckland.
Potential for business expansion.