NZ Affordable home aimed to ease crisis
Property Here - Tuesday, May 07, 2013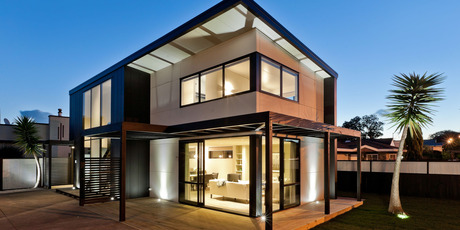 The prototype Smarter Small Home comes in at $224,000. Photo / Supplied
A $224,000 prototype house, aimed at Aucklanders who want an affordable place, has been built at Papakura.
Merv Giam, marketing manager at the Auckland office of building products business James Hardie, said the house built by Latitude Homes and designed by Creative Arch would be officially opened on Friday at 47 Great South Rd.
Len Brown, Auckland Mayor, will open the first Smarter Small Home showhome and praised it.
"This is an idea that's time has come. James Hardie has turned out an innovative and timely response to the need for more affordable homes in Auckland," Brown said.
James Hardie is at the centre of weathertightness litigation over products supplied for many New Zealand schools but Giam said other parties were also named.
"Schools are still being built with our products and still being reclad with our products," he said.
The business is promoting architecturally designed houses as a revolution, designed to fit on sites as small as 350sq m. Many Auckland sections are 600sq m to 850sq m and are proposed to be rezoned under the draft Unitary Plan for mixed housing so the new houses could fit on a back section.
"We are hoping for hundreds, if not thousands of these to be built by different builders and home owners," Giam said of the concept, originally designed in Australia but adapted for New Zealand.
Giam said $224,000 did not include section costs.
Barfoot & Thompson's average Auckland house price in March was $645,928 and the Real Estate Institute's median was $562,000.
Mayor Len Brown is officiating at the official Papakura showhome opening.
Giam said higher specification places developed under the firm's Smarter Small Home concept would sell for $259,000 and he hopes a house and land package can go for under $500,000.
"We are hoping to get it between $450,000 and $490,000 on a section costing between $220,000 and $250,000. The vision is sub-$500,000 for a truly desirable and functional home. And if we look outside of Auckland then it becomes even more affordable," he said.
Some industry experts are questioning just how cheap the places are.
"The James Hardie place is not really that cheap. Dave Halsey of Fletcher Residential was building Aston Marsh homes on Stancombe Rd in Flatbush that were about 200sq m for $270,000 plus land and they were really nice and also on 350sq m sites," one said.
Houses could be built for as little as $1600/sq m for a basic range fit-out to more than $1850/sq m for medium to high specification fit-outs, according to James Hardie's Giam.
"Excluding the cost of the section, for a three-bedroom, two-bathroom 140sq m house, a basic range will be $224,000 and the high spec range will be $259,000," said Giam.
Smarter Small Homes will be built by Jennian Homes, Latitude Homes, Signature Homes, Cavalier Homes, Milestone Homes and Carpe Diem Construction.
By mid-July, group house builder Jennian plans to have its first Smarter Small Home completed at an Ellerslie site.
Housing Minister Nick Smith is vowing to break the "stranglehold" of Auckland Council's policy of containing urban sprawl - a policy he said was "killing the dreams of Aucklanders" by driving up house prices. Dr Smith said it was essential that more land was made available for housing.