NZ $71m deal for council's North Shore HQ
Property Here - Thursday, April 04, 2013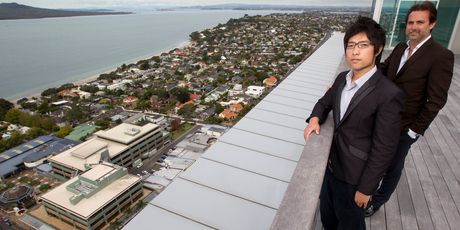 King Khoo with James Kellow at his penthouse apartment at the Sentinel in Takapuna. Photo / Greg Bowker
A former Takapuna Grammar student, who migrated from Malaysia 12 years ago, has just completed one of this year's biggest commercial property deals.
King Khoo, 28, paid $71 million for Auckland Council's North Shore headquarters at 1-7 The Strand, a block up from Takapuna Beach, in a deal which also involved swapping a luxury Belmont mansion.
Mr Khoo also owns one of NZ's most luxurious apartments, the two-level penthouse in the 30-storey Sentinel tower in Takapuna.
He bought it two years ago for $5.2 million and has had it stripped out for a major refurbishment which associate James Kellow said was costing "a significant seven-figure sum".
Mr Kellow, director of New Zealand Mortgages & Securities, arranged the funding for the deal with the council.
From the Sentinel apartment - made famous when the America's Next Top Model television show filmed there - Mr Khoo can look out on his new investment as well as his old school.
He said he had lived near the Belmont mansion on Winscombe St when he was at Takapuna Grammar before he went to Auckland University, where he studied marketing and management.
After that he "mucked around" and invested in real estate.
Mr Khoo is living in rented accommodation until work on his penthouse finishes in about four months.
Three years ago, he bought one of New Zealand's most iconic houses, the Pip Cheshire-designed bunker-style mansion formerly owned by Richlisters Robin and Erica Congreve on the clifftop near the Takapuna Grammar fields.