NZ $1.6m consultancy fees under fire
Property Here - Tuesday, May 28, 2013
Auckland Council's Yard 37 marine precinct development has already cost ratepayers $30 million.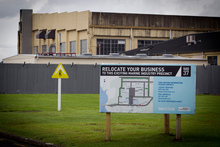 So far only one of an anticipated 20 marine firms has set up business in Yard 37 at Hobsonville. Photo / Natalie Slade
Consultants have been paid $1.6 million for work on Auckland Council's Yard 37 marine precinct development - a move one councillor describes as throwing good money after bad.
David Rankin, Auckland Council Property (ACPL) chief executive, disclosed a list of payments to eight consultancy firms working on the Hobsonville marine precinct - where 20 businesses had been expected to operate but only one has arrived so far.
In total the project to date has cost ratepayers $30 million.
Councillor Dick Quax is fuming about the consultancy fees.
"Ratepayers will be spewing to note that good money is being thrown after bad," Quax said.
"This is a fine example of why council should not be involved in what is a private sector business."
Leonie Freeman's Crest Consulting received $693,000 for work at the 20ha West Auckland site.
An ex-council employee, who wished to remain anonymous, claimed Crest was earning about $200 an hour.
"The Yard 37 consultants have had Monday morning meetings for the last 18 months.
"But the outcome is disastrous for ratepayers and for the marine industry who don't want it," the ex-employee said of the site to which boat builders and marine services had been expected to flock, and had been estimated to generate $7.2 million this financial year.
The experience has been exactly the opposite and councillor Cameron Brewer said consultants were the only winners.
"Ratepayers will be staggered to learn that in the last three years literally millions has been spent on writing strategies, reports, as well as ongoing advice from consultants, contractors, lawyers, marketers and, of course, a packet on project management," Brewer said.
Rankin said bankrupt developer Nigel McKenna worked for Development Advisory Services, which won a contestable process after requests for proposals were sent out to a number of companies.
Rankin described Yard 37 as a legacy project from Waitakere City Council dogged by "a number of live issues needing to be resolved".
He refused to disclose Crest's hourly rate.
"The hourly rate paid to Crest is commercially sensitive and is refused on the grounds as per section 2 b of the Local Government Official Information and Meeting Act Requests," Rankin wrote.
Yard 37 consultants
Crest Consulting $693,000
Beca Carter $228,000
Development Advisory
Services $218,000
Tattico $158,000
Jasmax $116,000
Wardale Consulting $87,000
WTP New Zealand $50,000
Jones Lang LaSalle $19,000
Total $1.6 million
Source: Auckland Council Property